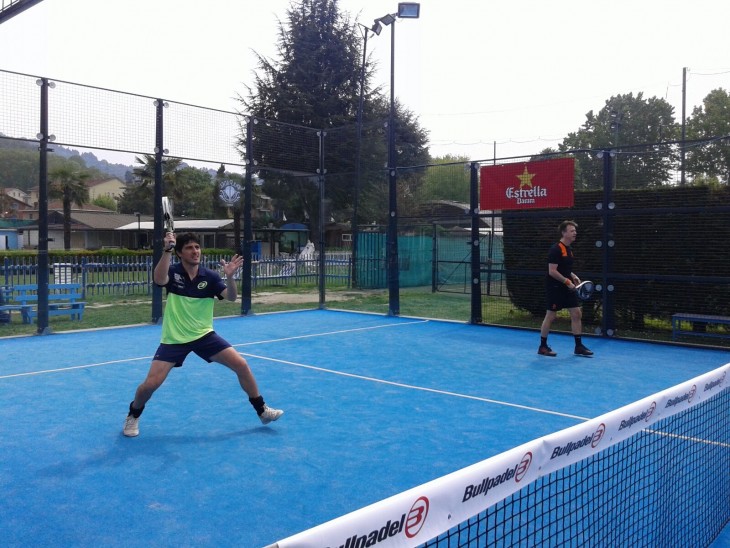 [:es]La bola echó a rodar en la primera prueba del International Padel Experience by Madison, patrocinado por Estrella Damm. La jornada en el Master Club Torino empezaba en el día de ayer a las 18:30 con la disputa del partido correspondiente a los octavos de final de la categoría masculina A entre Chicco-Castelli frente a Quartarone-Durando con victoria para los primeros por un resultado final de 6-3 y 7-6. A continuación, el turno llegaba para Delgrosso-Raspino frente a Foletto-Crivellaro. Fue un partido trepidante y muy igualado, que finalmente cayó del lado de Delgrosso-Raspino por 6-3 7-6.
Estos encuentros dejaron detalles de mucha calidad y levantaron el asombro de los presentes en la jornada de apertura del Turin Open.
En el día de hoy, el tiempo acompañaba desde bien temprano y tanto jugadores como espectadores han disfrutado de un gran ambiente de pádel. Los primeros partidos de la mañana eran los correspondientes a la categoría masculina A entre Bonnefoy-SanchezMera contra Posse-Proietti. Victoria para Bonnefoy-SanchezMera por 6-3 6-4 en un partido en el que los ganadores demostraron ser una de las parejas más fuertes del torneo.
Después sería el turno para Tonetti-Bandini y Damerini-Barbera en el partido de la una de la tarde. Encuentro muy igualado que se resolvió finalmente por un doble 7-5 a favor de Tonetti-Bandini. A continuación se medían Mida-Gillio y Mambretti-Carena. Los primeros demostraron su poderío y solventaron su estreno con un 6-2 6-0.
En cuanto a la categoría masculina B, durante la jornada del sábado se han disputado todos los encuentros del cuadro, en el que había un total de ocho parejas de las que destacaron dos de ellas por encima de todas. Marzano-Crema y Gagliardi-Terenzi ganaron sus encuentros de cuartos de final y semifinales con bastante facilidad y se encontraron en la final ante muchos espectadores que querían conocer a la primera pareja ganadora del IPE by Madison 2016.
En un partido muy emocionante, lleno de largos puntos y mucha igualdad, la victoria final fue para Marzano y Crema, que a pesar de ganar el primer set por 6-0 necesitaron tres sets para llevarse el título. El resultado final fue 6-0, 3-6 y 6-3.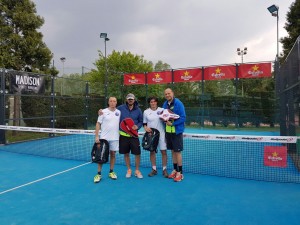 A pesar del buen tiempo matinal, sobre las tres de la tarde ha comenzado a llover con mucha intensidad, llevando incluso a suspender el partido entre Libero-Naldoni y Ruffoni-Fatelli que estaba programado para las 4 de la tarde. La organización del torneo y del Master Club Torino intentaron por todos los medios no llegar a ese punto, pero incluso en la pista cubierta había agua.
Mañana domingo tendrán lugar todos los partidos correspondientes al cuadro femenino, además de todos los que no se han podido jugar en el día de hoy del cuadro masculino A.
A las 9:30 de la mañana disputarán sus respectivos encuentros Susarello-Zandarin frente a Sobrero-Cravero y Impagliazzo-Sangiorgio contra Boselli-Medina. En semifinales esperan a los ganadores de estos partidos las parejas formadas por San Martin-Repiso y Beltrami-Trupiano, que se estrenarán en el Turin Open a las 11:00.
Todas las cartas estarán sobre la mesa y el Piemonte verá como dos de estas parejas se alzan con el título en la primera prueba del International Padel Experience by Madison.[:en]The ball started to roll in the first test by the International Padel Experience Madison, sponsored by Estrella Damm. The day at the Master Club began in Torino yesterday at 18:30 dispute with the corresponding match in the second round of the men's category A from Chicco-Castelli against Quartarone-Durando with the first victory by a final result of 6-3, 7-6. Then came the turn for Delgrosso-Raspino against Foletto-Crivellaro. It was an exciting and close game that finally fell on the side of Delgrosso-Raspino 6-3 7-6.
These encounters left details of high quality and raised the astonishment of those present at the opening day of the Turin Open.
On this day, she accompanied early time well and both players and spectators have enjoyed a great atmosphere padel. The first matches in the morning were those for the men to between Bonnefoy-SanchezMera against Posse-Proietti. Bonnefoy-SanchezMera victory 6-3 6-4 in a match in which the winners proved to be one of the strongest couples tournament.
Then it would turn to Tonetti-Bandini and Damerini-Barbera in the game one in the afternoon. Very tight encounter that was finally resolved by a double 7-5 for Tonetti-Bandini. Then Measure-Gillio and Mambretti-Carena was measured. The first showed its power and solventaron his debut 6-2 6-0.
As for the male category B, during the day on Saturday were played every game of the picture, in which there were a total of eight pairs of which two of them stood out above all. Marzano-Cream-Terenzi Gagliardi won their quarter-finals and semifinals quite easily and found themselves in the final against many spectators who wanted to meet the first winning couple of IPE by Madison 2016.
In an exciting, full of long rallies and plenty of equality match, the final victory went to Marzano and Cream, which despite winning the first set 6-0 they needed three sets to take the title. The final result was 6-0, 3-6 and 6-3.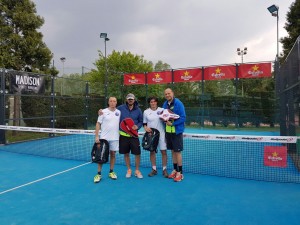 Despite the good weather morning, about three o'clock in the afternoon it started to rain with great intensity, leading even to suspend the match between Libero-Naldoni and Ruffoni-Fatelli that was scheduled for 4 pm. The organization of the tournament and the Masters Club Torino tried by all means do not reach that point, but even in the indoor track was water.
Sunday morning will take place every match for the women's draw, in addition to all those who have not been able to play today in the men's draw A. At 9:30 am they played their matches against Susarello-Zandarin Sobrero -Cravero and Impagliazzo-Sangiorgio against Boselli-Medina. In the semifinals await the winners of these matches the couples formed by San Martin-Repiso and Beltrami-Trupiano, to be released in the Turin Open at 11:00.
All the cards are on the table and the Piemonte look like two of these couples stand with the title on the first test by the International Padel Experience Madison.[:]