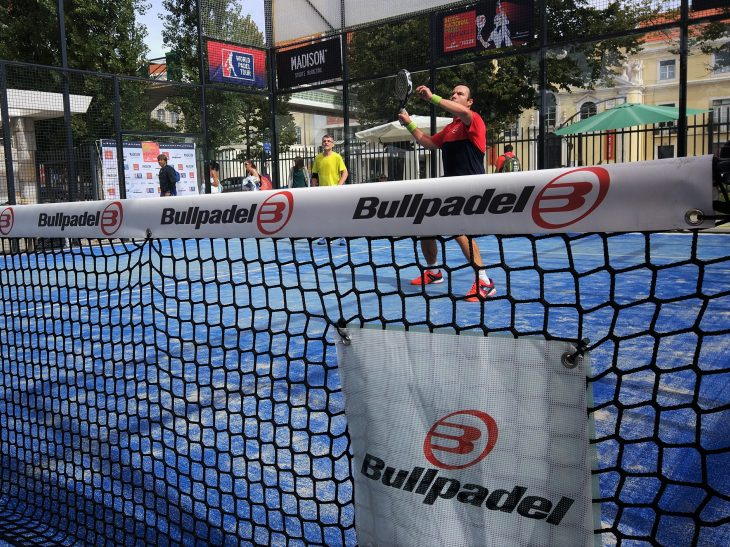 [:es]El segundo día en el Lisboa Open rebelaba una intensa jornada en la que 120 jugadores procedentes no solo de todo el territorio portugués, sino también de distintos puntos de Europa y Sudamérica, se daban cita con el único objetivo de disfrutar de la mejor experiencia internacional de pádel amateur.
El International Padel Experience by Madison vivía una nueva maratón de partidos, que enfrentaba entre las paredes de las pistas del Club Padel Campo Grande a los jugadores de categorías masculina B, femenina y mixta, que continuaban la competición iniciada el día anterior. Al torneo se unía, además, la categoría masculina, que se estrenaba demostrando una vez más el alto nivel de juego que ha alcanzado el pádel en el país luso.
Los distintos encuentros de las fases previas definían el que sería el cuadro principal, que enfrentaría en octavos a las mejores parejas de la jornada.
Pero aquellos que no conseguían hacerse con un puesto en la siguiente fase no decían adiós a la competición y entraban en una nueva ronda de consolación que les permitiría seguir disfrutando del deporte y la experiencia.
La tarde daba paso a los partidos de octavos y cuartos, dejando para la jornada final los partidos de honor: las semifinales y la lucha por el triunfo.
En categoría femenina serán las parejas Silva/Torres y las hermanas Aragonés Echevarría, además de las hermanas Graça y Pereira/Magalhaes quienes se enfrentarán en las últimas rondas de la competición.
Por su parte, en categoría mixta los españoles García/Río, los portugueses Leite/Sousa, así como Silva/Moura y Baptista/Sousa optarán a hacerse un puesto en la final mientras que en masculina B Calcada/Teixeira y Almeida/Kapinha son las parejas que se mantienen en la competición, además de Sandez/Díaz y Sánchez/Rodríguez, dos parejas españolas, procedentes del mismo equipo, que se verán las caras en el paso a la ansiada final.
Los partidos de cuartos de categoría masculina A cerraban la jornada y las parejas Gomes/Ferreira y Muñoz/Aragonés, además de Fontoura/Dias y Araujo/Franchi conseguían salir victoriosos y mantener sus opciones de alzarse con el triunfo.
El Lisboa Open, decimoquinta parada del International Padel Experience by Madison celebrará este domingo su última jornada, pero todavía estás a tiempo de formar parte de la experiencia del único circuito internacional de pádel amateur.
Inscríbete ahora y forma parte de una competición única.
¡Te esperamos padel lover!
[:en]The second day in the Lisbon Open was an intense day in which 120 players from not only the Portuguese territory, but also from different points in Europe and South America, met with the sole objective of enjoying the best international experience of amateur padel.
The International Padel Experience by Madison lived a new marathon of matches, which faced the walls of the courts of the Club Padel Campo Grande to the players of masculine categories B, feminine and mixed, that continued the competition begun the previous day. The tournament was also joined by the men's A category, which debuted demonstrating once again the high level of play that has reached the padel in the Portuguese country.
The different encounters of the previous phases defined what would be the main frame, which would face in the eighth to the best pairs of the day.
But those who could not get a place in the next phase did not say farewell to the competition and entered in a new round of consolation that would allow them to continue enjoying sport and experience.
The afternoon gave way to the games of eighth-finals and quater finals, leaving for the elast day the matchesof honor: the semifinals and the struggle for victory.
In the women's category will be the partners Silva / Torres and the sisters Aragones Echevarría, in addition to the sisters Graça and Pereira / Magalhaes who will face in the last rounds of the competition.
For their part, in mixed category the Spaniards Garcia / Rio, the Portuguese Leite / Sousa, as well as Silva / Moura and Baptista / Sousa will opt to take a place in the final while in men B Calcada / Teixeira and Almeida / Kapinha are the couples that still in the competition, as well as Sandez / Díaz and Sánchez / Rodríguez, two Spanish couples, from the same team, who will face each other in the step to the desired final.
The men's A quarter-finals A closed the day and Gomes/Aragonés and Muñoz/Aragonés, as well as Fontoura / Dias and Araujo/Franchi couples managed to win and keep their chances of winning.
The Lisbon Open, the fifteenth stop of the International Padel Experience by Madison will celebrate its last day on Sunday, but you are still in time to be part of the experience of the only amateur padel international circuit.
Sign up now and take part in a unique competition.
See you soon, Padel lover![:]