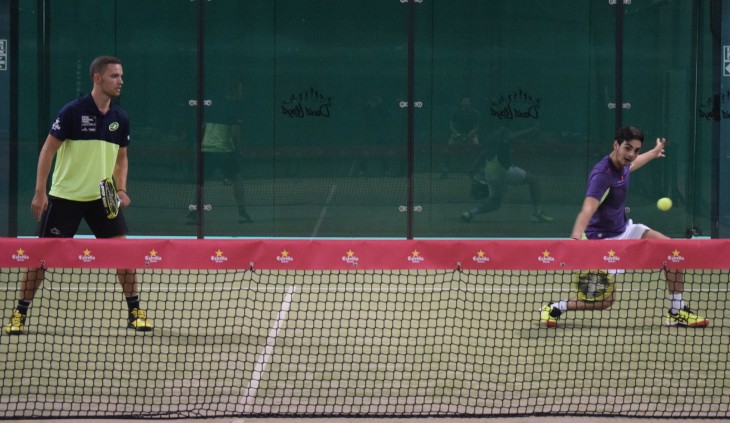 [:es]El International Padel Experience by Madison, patrocinado por Estrella Damm, concluyó un  magnífico fin de semana en las instalaciones del club David Lloyd Watford de Bushey con la victoria de Ryan Wyatt y Conor Silkman en la máxima categoría.
Los jugadores locales derrotaron en la gran final a José Landeta y Julio Álvaro en una apasionante lucha que se alargó hasta los tres sets (6-3, 5-7 y 6-4) y que hizo las delicias de los muchos aficionados que se acercaron hasta el club londinense contagiados por el gran boom del deporte de la pala en tierras británicas.
Ryan y Conor desplegaron un gran juego durante todo el fin de semana demostrando su calidad y compenetración, una técnica muy depurada y una gran capacidad para superar los momentos más complicados, como ocurrió en el partido por el título final, donde remontaron un 4-3 con el saque en contra en la última manga para hacerse con el London Open.
Con esta victoria Wyatt y Silkman ponían la guinda a un pastel que comenzaron a preparar desde el primer partido. Pero su gran nivel no solo les ha permitido alzarse esta gran cita, sino que también les otorga el premio de ser dos de los seleccionados por la selección británica de pádel para el Mundial por equipos que se disputará en Lisboa del 14 al 20 de noviembre.
Entre los días 2 y 3 de julio de este pasado verano en Vilna (Lituania), tuvo lugar la disputa de la Iª Fase de Clasificación Masculina en la que Gran Bretaña derrotó a los equipos representantes de Holanda, Finlandia y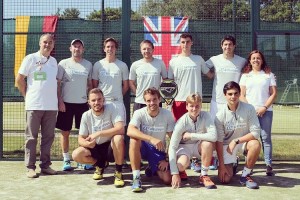 Lituania, certificando de esta manera su billete para la cita mundialística. Conor y Ryan participaron en la proeza junto a Sam Jones, Christian Medina Murphy, Tom Murray, James Asensio, y Graeme Darlington.
En apenas un mes, Cascais (Lisboa) acogerá una de las fechas más esperadas del año en la que por primera vez veremos a dos campeones del International Padel Experience by Madison. ¡Mucha suerte!
[:en]The International Padel Experience by Madison completed a magnificent weekend at the club David Lloyd Bushey Watford victory and Conor Ryan Wyatt Silkman in the top flight.
Local players defeated in the final Landeta and Julio José Alvaro in an exciting fight that stretched to three sets (6-3 5-7 6-4) and to the delight of the many fans who came to the London club infected by the great boom sport shovel in British soil.
Ryan and Conor displayed a great game all weekend demonstrating their quality and insight, a very refined technique and an ability to overcome the most difficult moments, such as the final title occurred in the party, where they rallied from 4-3 on serve against in the last race to clinch the London Open.
With this victory Silkman Wyatt and put the icing on a cake that began preparing for the first game. But its high level has not only allowed them to rise this great event, but also gives them the prize being two of the selected for the British team paddle for the World Team to be held in Lisbon from 14 to 20 November.
Between June 2 and July 3 this past summer in Vilnius (Lithuania), it took place the dispute of the Ist Phase of Male Classification in Britain defeated the representatives of the Netherlands, Finland and Lithuania teams, certifying in this way its ticket for world appointment. Conor and Ryan participated in the feat with Sam Jones, Christian Medina Murphy, Tom Murray, James Asensio, and Graeme Darlington.
In just one month, Cascais (Lisbon) will host one of the most anticipated times of the year in which for the first time see two champions of the International Padel Experience by Madison. Good luck![:]