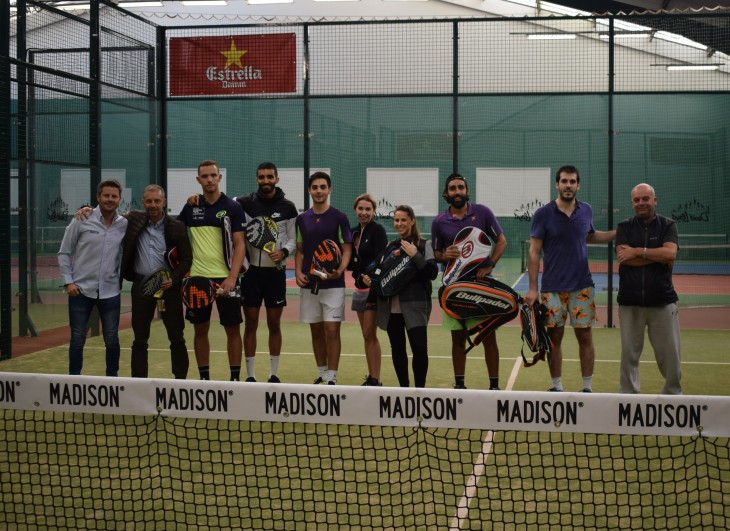 [:es]Se van acercando las fechas para el arranque de la nueva edición del International Padel Experience by Madison 2017, pero mientras vamos a volver a vivir la emoción del único circuito de pádel amateur internacional que existe. En nuestro recordatorio por el curso 2016, hoy viajamos hasta Londres. Así fue la crónica del gran fin de semana vivido en el David Lloyd Watford de Bushey.
El International Padel Experience by Madison, patrocinado por Estrella Damm, concluyó un  magnífico fin de semana en las instalaciones del club David Lloyd Watford de Bushey con la victoria de Ryan Wyatt y Conor Silkman en la máxima categoría.
Los jugadores locales derrotaron en la gran final a José Landeta y Julio Álvaro en una apasionante lucha que se alargó hasta los tres sets (6-3, 5-7 y 6-4) y que hizo las delicias de los muchos aficionados que se acercaron hasta el club londinense contagiados por el gran boom del deporte de la pala en tierras británicas.
Ryan y Conor desplegaron un gran juego durante todo el fin de semana demostrando su calidad y compenetración, una técnica muy depurada y una gran capacidad para superar los momentos más complicados, como ocurrió en el partido por el título final, donde remontaron un 4-3 con el saque en contra en la última manga para hacerse con el London Open.
Con esta victoria Wyatt y Silkman ponían la guinda a un pastel que comenzaron a preparar desde el primer partido. Pero su gran nivel no solo les permitió alzarse esta gran cita, sino que también les otorgaba el premio de ser dos de los seleccionados por la selección británica de pádel para el Mundial por equipos que se disputó en Lisboa del 14 al 20 de noviembre de 2016.
https://www.youtube.com/watch?v=I1L_Zqfny8w&index=6&list=PLUSvUkHNA69wdIaPzdv4YQGjXUE5G8n8J[:en]The dates for the start of the new edition of the International Padel Experience by Madison 2017 are approaching, but while we are going to relive the emotion of the only international amateur paddle circuit that exists. In our reminder for the 2016 course, today we travel to London. So it was the chronicle of the great weekend lived in the David Lloyd Watford of Bushey.
The International Padel Experience by Madison, sponsored by Estrella Damm, concluded a magnificent weekend at the facilities of the David Lloyd Watford Bushey Club with the victory of Ryan Wyatt and Conor Silkman in the top flight.
The local players defeated Jose Landeta and Julio Álvaro in an exciting final that lasted until the three sets (6-3, 5-7 and 6-4) and that delighted the many fans who came Until the London club infected by the great boom of the sport of the blade in British lands.
Ryan and Conor deployed a great game throughout the weekend demonstrating their quality and understanding, a very refined technique and a great ability to overcome the most complicated moments, as happened in the final title match, where they retreated a 4-3 With the serve against in the last sleeve to be with the London Open.
With this victory Wyatt and Silkman put the icing on a cake that they began to prepare from the first game. But their great level not only allowed them to raise this great event, but also awarded them the prize of being two of the selected by the British paddle team for the World Team which was held in Lisbon from 14 to 20 November 2016 .