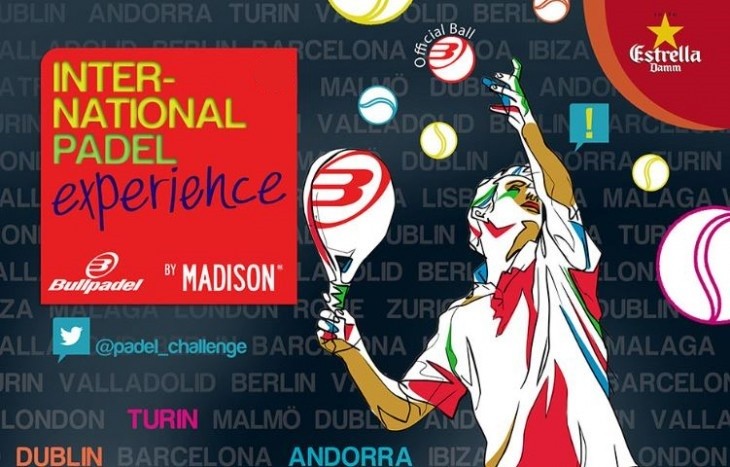 [:es]Con el calendario 2016 a punto de concluir, el International Padel Experience by Madison abre el plazo de candidaturas para aquellos clubes internacionales que estén interesados en formar parte de la edición 2017. Escríbenos a través del siguiente link para obtener más información sobre los requisitos, bases y normas de competición.
http://internationalpadel.com/contacto/
El plazo para recibir candidaturas finaliza el 31 de diciembre de 2016 a las 00.00. Una vez recibidas todas las propuestas seleccionaremos las nuevas sedes del IPE by Madison 2017 para lanzar el circuito en enero.
El mejor pádel amateur y el turismo de calidad vuelven a fundirse en el International Padel Experience by Madison, un proyecto que continúa evolucionando y que ya es una referencia a nivel nacional e internacional. Para el próximo año 2017, el único circuito internacional de pádel amateur que existe dará un salto de calidad con la incorporación de nuevas sedes, más países y grandes premios en el que será su sexto aniversario. 
Desde su creación en el año 2012, el IPE By Madison ha vivido un crecimiento exponencial. En su primer año, Inglaterra, Portugal, Suecia y España fueron los cuatro países de acogida de un circuito novedoso, a la vez que demandado por los amantes del deporte de moda europeo. En su edición de 2016, el International Padel Experience ha llevado su emoción y espectáculo a nueve países repartidos en catorce sedes.
Y para el 2017, el número de clubes de acogida del circuito amateur por excelencia será aún mayor. Desde hoy, los clubes internacionales que quieran recibir a los mejores jugadores amateur y disfrutar del gran ambiente de pádel que ofrece el International Padel Experience by Madison podrán completar su candidatura.
[:en]With the calendar 2016 nearing to complet, the International Padel Experience by Madison opens the deadline for nominations for those international clubs who are interested in joining to the edition of 2017. Write to us via the following link for more information about requirements, bases and competition rules.
http://internationalpadel.com/contacto/
The deadline for applications is December 31, 2016 at 00.00. Once all proposals received will select the new headquarters of IPE by Madison 2017 to launch the circuit in January.
The best amateur paddle tennis and quality tourism remelting in the International Padel Experience by Madison, a project that continues to evolve and is already a reference to national and international level. For next year, 2017, the only international amateur circuit there will paddle a qualitative leap with the addition of new sites, more countries and big prizes in what will be their sixth anniversary.
Since its inception in 2012, the IPE By Madison has experienced exponential growth. In its first year, England, Portugal, Sweden and Spain were the four host countries of a new circuit, while sued for sports enthusiasts European fashion. In its 2016 edition, the International Padel Experience has led his excitement and entertainment to nine countries spread over fourteen venues.
And by 2017, the number of clubs host the amateur circuit par excellence is even greater. From today the deadline for nominations for international clubs who are interested in being part of this great project opens.[:]