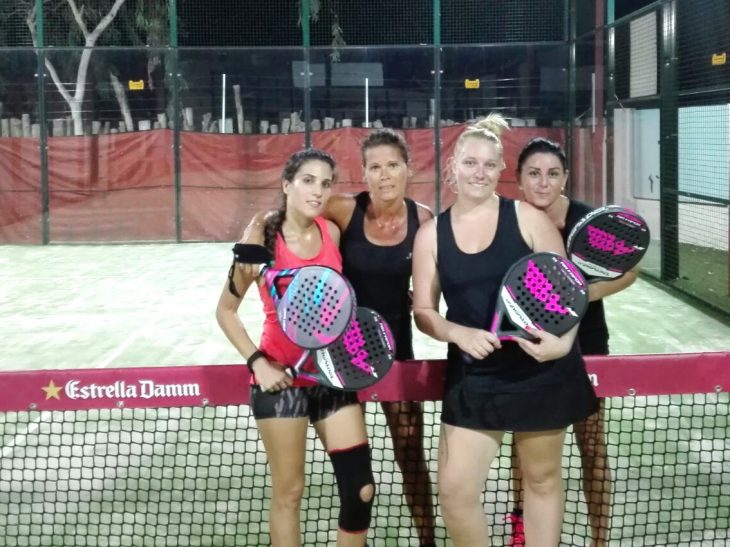 [:es]Senegal, y más concretamente la provincia de Saly, acogen este fin de semana la penúltima prueba del International Padel Experience by Madison.
Este torneo supone el salto al continente africano de un circuito en continua expansión, que ha conseguido hacer del pádel un deporte en auge en países donde, a priori, no existía ninguna tradición.
Desde su apertura, el Club Padel Saly, fundado en noviembre de 2015 y ubicado en la zona oeste del país, consiguió acercar el deporte a vecinos y visitantes, gracias a su carácter familiar y a su oferta de actividades, entre las que se incluye el pádel, pero también danza clásica y moderna, gimnasio, servicio de fisioterapia, spinning, yoga, pilates, crossfit… Queda patente para todo aquel que visita el Padel Saly que el club fue pensado por y para disfrutar del deporte.
Esta filosofía engrana a la perfección con la del International Padel Experience by Madison, que llega a Saly en la recta final del circuito 2017 coincidiendo con el segundo aniversario de la entrada del pádel en Senegal.
Durante tres días la ciudad africana será la capital mundial de pádel amateur, con un torneo que se celebrará en las idílicas instalaciones del Club Saly Open.
Hasta el domingo 12 de noviembre 40 jugadores senegaleses, pero también españoles, argentinos, libaneses, franceses, eslovacos y benineses se enfrentarán entre las cuatro paredes de las pistas en un intenso torneo que ha sido acogido con gran expectación entre los aficionados de la zona.
Durante la tarde del jueves se celebraban los primeros partidos del Saly Open, correspondientes a la clasificación a semis de la categoría femenina. Cuatro partidos que destacaron por la entrega de sus jugadoras por alcanzar las fases finales del torneo.
Las parejas Ingrid/Jenny y Elo/Stephan completaban las plazas de la primera semifinal, tras derrotar 6-2/6-2 y 6-0/6-3 a Llum/Yasmin y Saria/Alize respectivamente.
Por su parte, la dupla Gwen/Melani se imponía 7-5/6-0 a a Nath/Cecile, mientras que Sylvie/Severine vencía al tándem Maga/M.José 6-3/6-1 y cerraban la segunda semifinal del torneo.
La penúltima prueba del único circuito internacional de pádel amateur continuará la competición en la tarde del viernes 10 de noviembre, con la celebración de las semifinales femeninas y la entrada al torneo de la categoría masculina.
¡Continuamos, padel lovers!
[:en]Senegal, and specifically the province of Saly, host this weekend the penultimate round of the International Padel Experience by Madison.
This tournament is the jump to the African continent of a continuously expanding circuit, which has managed to become padel in a sport on the rise in countries where there was no tradition until date.
Since its opening, the Padel Saly Club, founded in November 2015 and located in the west of the country, managed to bring the sport closer to residents and visitors, thanks to its familiar nature and its range of activities, including padel, but also classical and modern dance, gym, physiotherapy service, spinning, yoga, pilates, crossfit… It is clear to everyone who visits Padel Saly that the club was designed for and to enjoy sports.
This philosophy fits in perfectly with the International Padel Experience by Madison, which arrives in Saly in the final stretch of the 2017 circuit, coinciding with the second anniversary of the entry of the paddle in Senegal.
For three days the African city will be the world capital of amateur padel, with a tournament to be held in the idyllic facilities of the Club Saly Open.
Until Sunday, November 12th, 40 Senegalese players, but also Spaniards, Argentines, Lebanese, French, Slovaks and Beninese will face inside the four walls of the courts in an intense tournament that has been received with great expectation among fans in the area.
During the afternoon of Thursday the first matches of the Open Saly were celebrated, corresponding to the classification to semis of the femile category. Four games that stood out for the enthusiasm of their players to reach the final stages of the tournament.
Couples Ingrid / Jenny and Elo / Stephan completed the places of the first semifinal, after defeating 6-2 / 6-2 and 6-0 / 6-3 to Llum / Yasmin and Saria / Alize respectively.
For its part, the pair Gwen / Melani won 7-5 / 6-0 to Nath / Cecile, while Sylvie / Severine defeated the tandem Maga / M.José 6-3 / 6-1 and closed the second semifinal of the tournament.
The penultimate round of the only international circuit of amateur padel will continue the competition on the afternoon of Friday, November 10th, with the celebration of the women's semifinals and the entry to the men's tournament.
We continue, padel lovers![:]