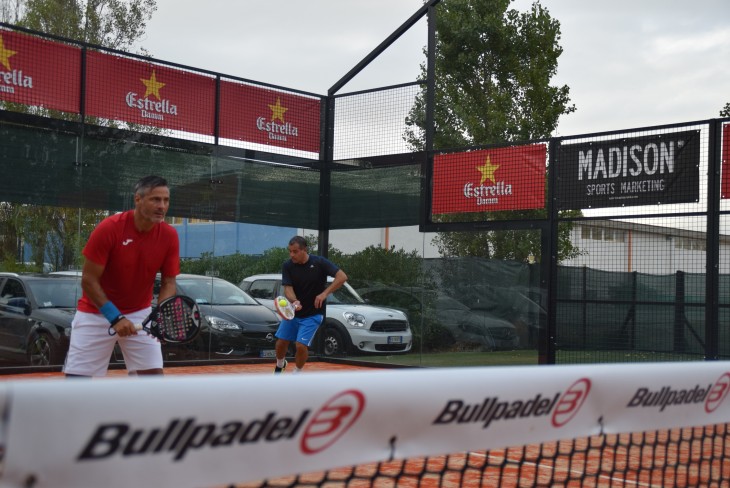 [:es]Tras el éxito cosechado en el Zurich Open, el International Padel Experience recoge los bártulos para trasladarse al norte de  Italia, concretamente a la ciudad de Padua donde se celebrará del 14 al 16 de julio el la novena prueba del circuito, el Padua Open.
El club encargado de albergar el torneo es el club Padel Isolaverde. Se ubica en un oasis verde en el que relajarse y dispone de una piscina exterior y otra cubierta, campos multiusos para fútbol, pistas de tenis, 2 pistas de pádel, vestuarios y una zona de bar con wifi gratuito.
Como desde la organización queremos que la experiencia vaya mucho más allá de la disputa del torneo de pádel, recomendamos algunas visitas obligadas:
La Capilla de los Scrovegni o Capilla de la Arena alberga en su interior un ciclo de frescos del artista Giotto, considerados una delas cumbres del arte occidental. Se trata de una de las obras más importante del artista. Los frescos narran episodios religiosos, como la historia de la Virgen o la Pasión de Cristo.
La Basílica de San Antonio de Padua es una de las iglesias principales de la ciudad ya que es donde fue enterrado el patrón de la ciudad, San Antonio de Padua. La basílica posee una gran complejidad arquitectónica puesto que conviven diferentes estilos: románico, gótico y barroco. Junto a la basílica, se puede ver el monumento ecuestre del "Gattamelata", realizado por el gran escultor Donatello.
El Prato della Valle es la plaza más grande de Italia, con unas dimensiones de 90.000 metros cuadrados. Esta plaza al aire libre constituye en la actualidad un lugar muy transitado por la población paduana y en ocasiones festivas se celebran conciertos o fuegos artificiales en la plaza. Está compuesta por 78 estatuas.
El Palazzo della Ragione de Padua (Palacio de la Razón) era hace años la sede del gobierno y de los tribunales de la ciudad. Actualmente, se trata de un gran edificio civil destinado al uso comercial en su parte baja y conectado al actual ayuntamiento. Está adornado en su interior con frescos que se le atribuyen a Giotto.
[:en]Following the success of the Zurich Open, the International Padel Experience collects the items to be moved to northern Italy, specifically to the city of Padua, which will host the torunament  from July 14 to 16 on the ninth round of the circuit, the Padua Open. The club in charge of hosting the tournament is the club Padel Isolaverde. It is located in a green oasis in which to relax and has an outdoor and indoor swimming pool, multi-purpose football pitches, tennis courts, 2 padel courts, changing rooms and a bar area with free Wi-Fi.
From the organisation team,  we want you to enjoy the whole experience and that´s why  we recommend some not to be missed visits:
The Chapel of the Scrovegni or Chapel of the Arena houses in its interior a cycle of frescoes of the artist Giotto, considered one of them summits of the western art. This is one of the most important works of the artist. The frescoes narrate religious episodes, such as the story of the Virgin or the Passion of Christ.
The Basilica of San Antonio de Padua is one of the main churches of the city as it is where the patron saint of the city, San Antonio de Padua was buried. The basilica has a great architectural complexity since they coexist different styles: Romanesque, gothic and baroque. Next to the basilica, you can see the equestrian monument of the "Gattamelata", made by the great sculptor Donatello.
The Prato della Valle is the largest square in Italy, with dimensions of 90,000 square meters. This open-air plaza is now a busy place for the people of Padua and on occasion festive concerts or fireworks are held in the square. It is composed of 78 statues.
The Palazzo della Ragione in Padua (Palace of Reason) was for years the seat of the government and the courts of the city. Currently, it is a large civil building intended for commercial use in its lower part and connected to the current town hall. It is adorned inside with frescoes attributed to Giotto.
[:]