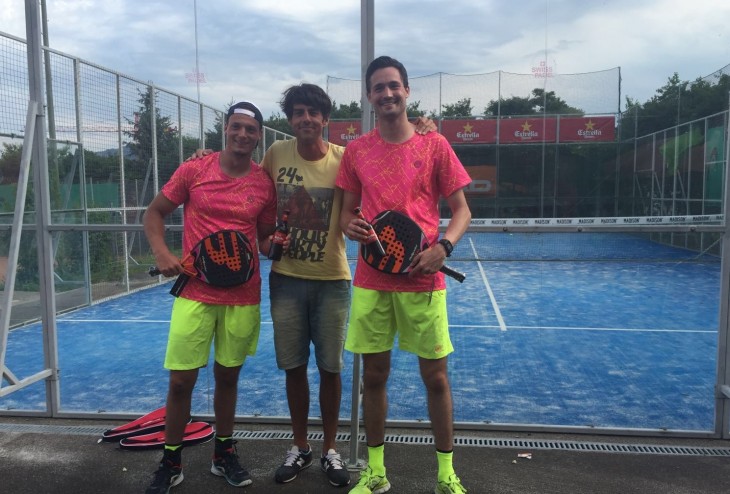 [:es]El Padel im TC Unterengstringen de Zurich vivió con intensidad y emoción la segunda jornada del Zurich Open con grandes partidos y un ambiente inmejorable para recibir por primera vez una prueba del International Padel Experience by Madison, patrocinado por Estrella Damm.
Muchos fueron los aficionados que se acercaron para disfrutar de la nueva prueba del único circuito internacional de pádel amateur, dejando latente el gran momento de auge que vive el deporte de la paleta en Suiza.
Los presentes fueron testigos de la victoria en la máxima categoría masculina de los hermanos Näf. Andreas y Patrik derrocharon un gran nivel e impusieron su alta técnica de juego para hacerse con el Zurich Open sin ni siquiera ceder un set en todo el campeonato.
Tras ganar a Óscar Gutiérrez/Jeremy Cornuz (6-2 y 6-2) y a Reto Scartazzini/Suat Ulusoy por un contundente 6-0 6-2, Andreas y Patrik se plantaban en la final dejando claro que si seguían jugando de forma tan compenetrada y seria, se alzarían con el título. Enfrente estarían Jorge Berasategui-Sampedro Marcos y Federico de Carvajal, que habían logrado con méritos su pase a la final tras deshacerse de  Philipp Alex Gehrig/Till Gygax (7-6 y 6-4) y de Daniel Heimlicher y Cristian Prieto (6-1 y 6-4).
El partido decisivo por el premio final no dejó lugar a sorpresas y a pesar de que Federico y Jorge intentaron aguantar las embestidas de sus adversarios, Andreas y Patrik impusieron su ley y cerraron el partido con un resultado de 6-2 y 6-4 y además del honor de ganar el primer Zurich Open de la historia se llevan de premio dos noches de hotel para disputar la final en el DoubleTree by Hilton Resort & Spa Reserva del Higuerón, productos Gripping Gel, palas de alta gama de Bullpadel y dos entradas para el Estrella Damm Master Final.
En el cuadro de consolación, Philipp Alex Gehrig y Till Gygax consiguieron la victoria frente a Alain Cornuz y Roger Rusca.
La emoción del Zurich Open no termina, y mañana se disputarán los partidos finales de la categoría mixta, que durante el día de hoy ya ha hecho las delicias de los aficionados con buenos partidos y puntos espectaculares. Jorge de la Riva y Lourdes Valenzuela ya tienen su plaza en la final y esperan rival, que saldrá de los partidos que se disputen mañana a primera hora.
Puedes consultar todos los resultados y horarios pinchando en el siguiente enlace:
http://internationalpadel.com/zurich2016/
[:en]The Padel im TC Unterengstringen Zurich lived with intensity and emotion the second round of the Zurich Open with large parties and an excellent atmosphere for the first time a test by the International Padel Experience Madison.
There were many fans who came to enjoy the new test only international amateur circuit paddle, leaving latent great boom time living the paddle sport in Switzerland.
The present witnessed the victory in the maximum category of Näf male siblings. Andreas and Patrik squandered a great level and imposed their high technical game to clinch the Zurich Open without even dropping a set in the tournament.
After winning Oscar Gutierrez / Jeremy Cornuz (6-2, 6-2) and Reto Scartazzini / Suat Ulusoy by a 6-0 and 6-2, Andreas and Patrik were planted in the end making it clear that if they continued playing for so ingrained and serious, they would be raised with the title. Jorge Berasategui front-Sampedro would Marcos and Federico de Carvajal, who had achieved merit their place in the final after beating Alex Gehrig Philipp / Till Gygax (7-6, 6-4) and Daniel Heimlicher and Cristian Prieto (6- 1 and 6-4).
The decisive match for the ultimate prize left no surprises and although Jorge Federico and tried to withstand the onslaught of his opponents, Patrik Andreas and imposed their law and closed the match with a score of 6-2, 6-4 and also the honor of winning the first Zurich Open history takes prize two hotel nights for the final at the DoubleTree by Hilton Resort & Spa Higueron, products Gripping Gel, shovels high-end Bullpadel and two tickets Estrella Damm Master Final.
In the consolation draw, Philipp and Alex Gehrig Till Gygax got the win against Roger Alain Cornuz and Rusca.
The excitement of the Zurich Open does not end, and the final matches will be played tomorrow mixed category, which during the day has already been delighting fans with good matches and spectacular points. Jorge de la Riva and Lourdes Valenzuela already have their place in the final and rival, who will leave the matches played hope tomorrow morning.
You can check all results and schedules by clicking on the link below: