[:es]
FICHA TÉCNICA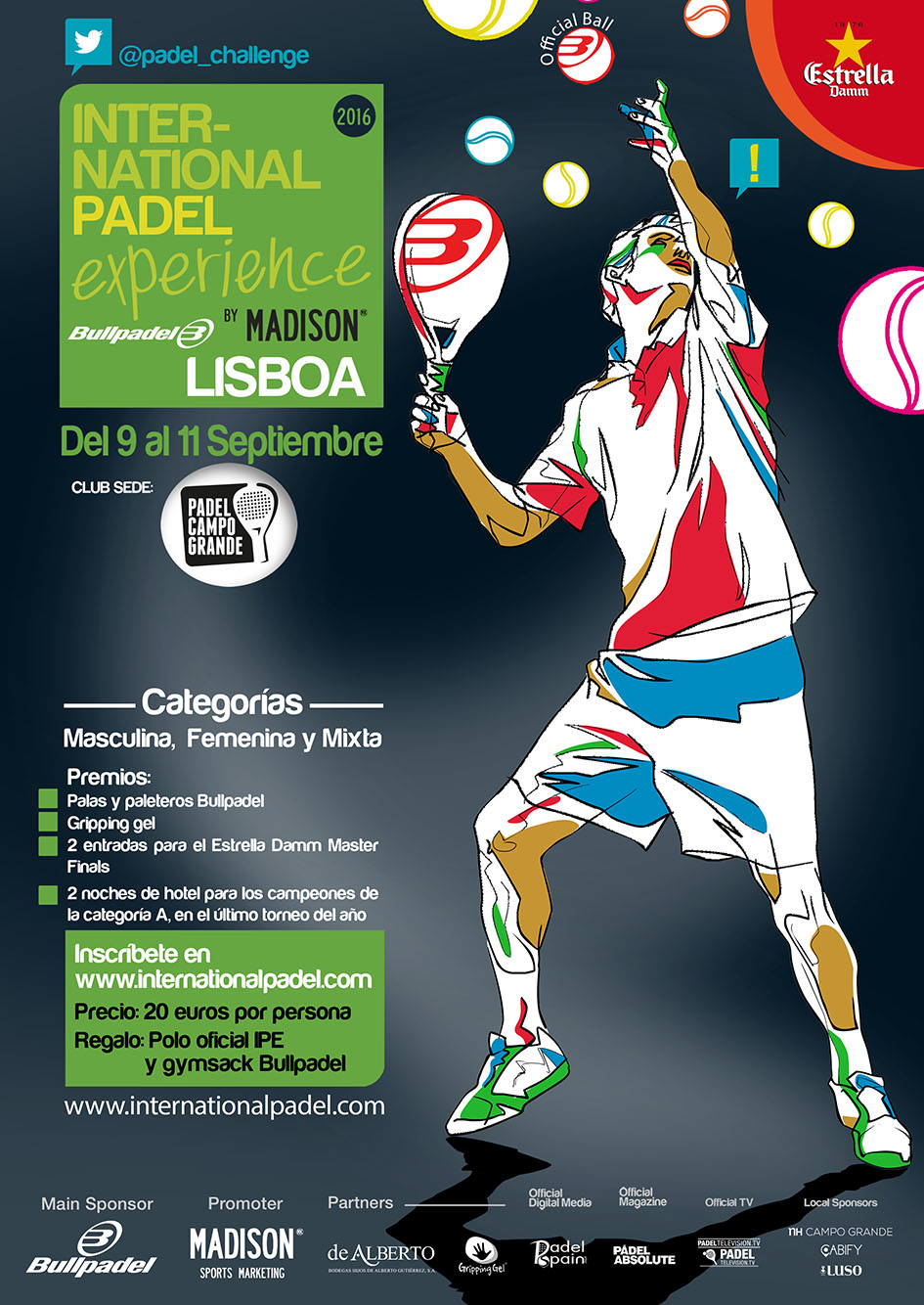 Lugar:Padel Campo Grande
Día: Del 9 al 11 de septiembre
Categorías: Masculino, Femenino y Mixto
Welcome Pack: Ver Welcome Pack

Polo oficial IPE2016
Gymsack bullpadel

Precio:20€/persona
INSCRIPCIONES CERRADAS

PATROCINADORES
EL CLUB
Queríamos una actividad física integrada con la socialización e idea del Padel Club de Campo Grande. Nos enamoramos de Lisboa por su ubicación privilegiada, que ofrece aparcamiento gratuito y transporte, así como el fantástico entorno natural en medio del Jardín Campo Grande, el lago y otros servicios.
Disponemos también áreas exclusivas para los jugadores, vestuarios, así como las zonas comunes de cafetería, tienda, jardín y terraza. Visite nuestro club de pádel y le mostraremos nuestras instalaciones.
PREMIOS
Categoría A Masculina
Categoría A Femenina
Categoría B Masculina
Categoría B Femenina
Categoría C
Categoría Mixta
Campeón
Pala Black Metal 16
Pala Night 16
Pala K2 Evo
Pala Kata Light 15
Pala BP10 EVO16
Pala Kata Light 15 y Pala K2 15
205,00€
170,00€
140,00€
120,00€
120,00€
120,00€ y 140,00€
Subcampeón
Paletero BBP
Mochila BMP
Mochila BMP
54,00€
44,00€
44,00€
*Además a los campeones masculinos y femeninos de la categoría A recibirán también los siguientes premios:
Obsequio de Gripping Gel
2 entradas para el Estrella Damm Master Finals
2 noches de hotel para el último torneo del año
CLASIFICACIÓN
Masculino A
Puntuación
Campeones
Jerónimo Cañas- Eduardo Espona
950
Subcampeones
Rodrigo Maya‐ Diogo Morgado
900
Semifinalistas
Francisco Correia – Jorge Fontoura
Pedro Roque- Joao Faria
850
Femenino A
Puntuación
Campeonas
Mónica Gomes – Madalena Nunes
950
Subacampeonas
Inës Freire ‐ Carenza Ferreira
900
Semifinalistas
Carmo Cleto – Susana Santos
Rita Lopes – Joana Noronha
850
GALERÍA
VIDEO RESUMEN
Volver a calendario 2016
[:en]
TECHNIQUE CARD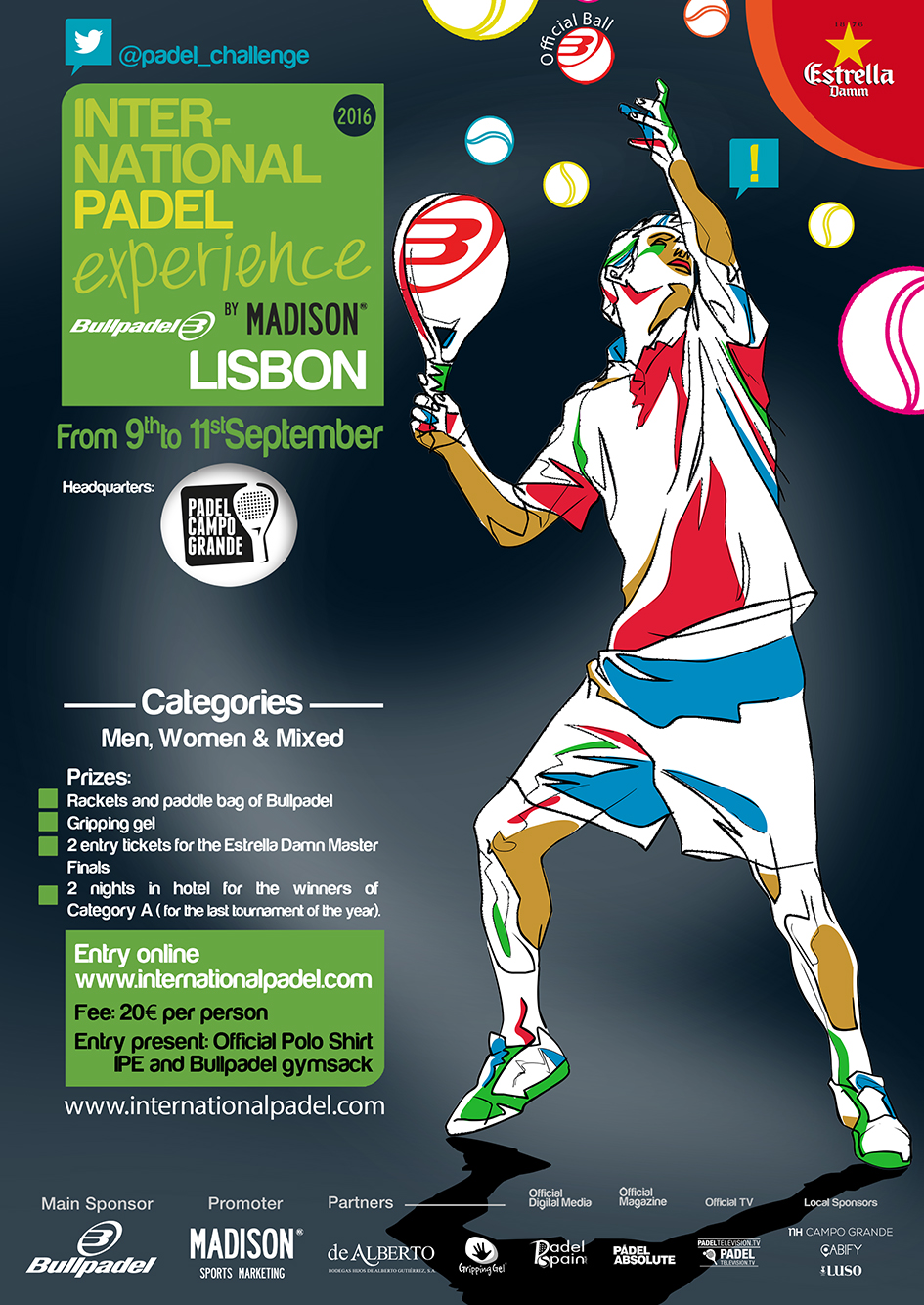 SPONSORS
THE CLUB
We wanted a physical activity integrated with the idea of socialization and Paddle Club de Campo Grande Lisboa .We fell in love with its privileged location, offering free parking and transportation as well as the fantastic natural environment, the Garden Campo Grande, Lake and other services.
We also have exclusive areas for players, changing rooms and public areas of cafe, shop, garden and terrace. Visit our paddle club and show you our facilities.
AWARDS
Category Man A
Category Women A
Category Man B
Category Women B
Category C
Category Mixed
Champion
Racket Black Metal 16
Racket Night 16
Racket K2 Evo
Racket Kata Light 15
Racket BP10 Evo16
Racket Kata Light 15 y Racket K2 15
205,00€
170,00€
140,00€
120,00€
120,00€
120,00€ y 140,00€
Subchampion
Paletero BBP
Bag BMP
Bag BMP
54,00€
44,00€
44,00€
*In addition to male and female champions category A will also receive the following prizes:
Gift of Gripping Gel
2 tickets for the Estrella Damm Master Finals
2 nights hotel for the last tournament of the year
CLASSIFICATION
Male A
Puntuaction
Champion
Jerónimo Cañas- Eduardo Espona
950
Runner-up
Rodrigo Maya‐ Diogo Morgado
900
Semifinalists
Francisco Correia – Jorge Fontoura
Pedro Roque- Joao Faria
850
Female A
Puntuaction
Champion
Mónica Gomes – Madalena Nunes
950
Runner-up
Inës Freire ‐ Carenza Ferreira
900
Semifinalists
Carmo Cleto – Susana Santos
Rita Lopes – Joana Noronha
850
GALLERY
VIDEO SUMMARY
Back to calendar 2016
[:]