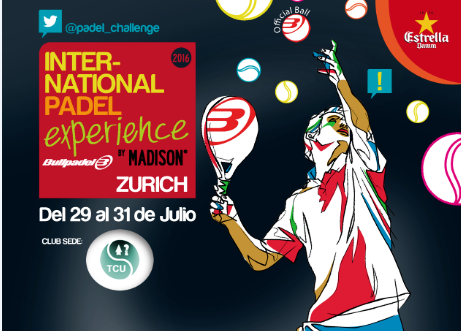 [:es]El International Padel Experience by Madison, patrocinado por Estrella Damm, prepara ya su segunda parada en el Rockbrook Padel Club de Dublín, del 6 al 8 de mayo con el Dublín Open, la primera de las novedades de esta temporada que acaba de comenzar tras el emocionante estreno del circuito en Turín.
Otra de las incorporaciones al único circuito internacional de pádel amateur es la prueba de Zurich (Suiza), que acoge el torneo ante una gran expectación debido al crecimiento de este deporte en el país alpino. El Zurich Open se disputará finalmente del 29 al 31 de julio en el Padel im TC Unterengstringen, retrasando así dos semanas la fecha que se había propuesto en un principio.
Si estás interesado en participar en la prueba de Zurich, o en cualquier otra, te animamos a inscríbirte cuanto antes para no perderte este atractivo circuito. Es tan fácil como pinchar en el siguiente enlace, elegir la sede que más te guste y rellenar los datos.  Pueden participar todos los jugadores y jugadoras que lo deseen, sea cual sea su nivel, ya que el circuito es amateur.
http://internationalpadel.com/ipe-2016/
Os recordamos que los premios para los campeones de la máxima categoría de todos los torneos serán dos noches de hotel para disputar la final en el DoubleTree by Hilton Resort & Spa Reserva del Higuerón, palas de alta gama de Bullpadel, productos Gripping Gel  y dos entradas para el Estrella Damm Master Final.
Además, el resto de vencedores recibirán material deportivo de Bullpadel y todos los jugadores podrán saborear las virtudes de la cerveza Estrella Damm, que estará presente en todas las etapas del circuito. Y solamente por participar en el circuito los jugadores recibirán un magnífico welcome pack, compuesto por el cómodo gymsack y el polo oficial del International Padel Experience by Madison 2016. 
[:en]The International Padel Experience by Madison, sponsored by Estrella Damm, is already preparing his second stop in the Rockbrook Padel Club of Dublin, from 6 to 8 May in Dublin Open, the first of the novelties of this season that has just begun after the Release exciting circuit in Turin.
Another additions to the only international amateur circuit padel is proof Zurich (Switzerland), which hosts the tournament against great expectations due to the growth of the sport in the Alpine country. The Zurich Open was finally held from July 29 to 31 in the Padel im TC Unterengstringen, delaying two weeks the date that had originally proposed.
If you are interested in participating in the test of Zurich, or any other, we encourage you to register as soon as possible to not miss this exciting circuit. It's as easy as clicking on the link below, choose the seat you like and fill in the details. all players and players who wish can participate, whatever their level, as the circuit is amateur.
http://internationalpadel.com/ipe-2016/
We remind you that the prizes for champions of the highest category of all tournaments are two hotel nights for the final at the DoubleTree by Hilton Resort & Spa Higueron, shovels high-end Bullpadel products Gripping Gel and two tickets for the Estrella Damm Master Final.
In addition, other winners will receive sports equipment Bullpadel and all players can enjoy the virtues of beer Estrella Damm, who will be present at all stages of the circuit. And only for participating in the circuit players will receive a great welcome pack, consisting of comfortable Gymsack and the official pole of the International Padel Experience Madison by 2016.[:]