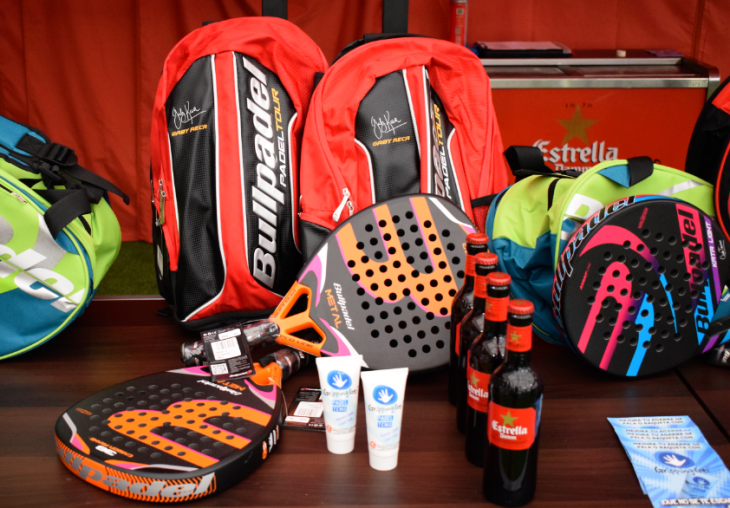 [:es]El International Padel Experience by Madison, patrocinado por Estrella Damm,afronta su octava etapa en la península ibérica con la cita de Lisboa, del 9 al 11 de septiembre, en el Club Padel Campo Grande.
El circuito tiene por delante una prueba en la que la expectación es máxima, debido al tremendo auge que vive el deporte de la pala en Portugal y por supuesto, por las ganas de los jugadores de alzarse con los excelentes premios que pone en liza el IPE by Madison 2016.
Lisboa será la próxima oportunidad para que los campeones de la máxima categoría consigan las dos noches de hotel para disputar la final en el DoubleTree by Hilton Resort & Spa Reserva del Higuerón, palas de alta gama de Bullpadel, productos Gripping Gel  y dos entradas para el Estrella Damm Master Final.
El resto de vencedores recibirán material deportivo de Bullpadel. Y solamente por participar en el circuito los jugadores recibirán un magnífico welcome pack, compuesto por el cómodo gymsack y el polo oficial del International Padel Experience by Madison 2016. 
Sin duda, grandes alicientes que elevan el enorme interés que ya despiertan de por sí los torneos del International Padel Experience by Madison. Además de los premios para todas las categorías, Estrella Damm, patrocinador principal del circuito, también obsequiará a los participantes con su siempre refrescante y mediterránea cerveza.
Si todavía no lo has hecho, ya puedes inscribirte en cualquiera de los próximos torneos. Es tan fácil como pinchar en el siguiente enlace y rellenar los datos.  Pueden participar todos los jugadores y jugadoras que lo deseen, sea cual sea su nivel, ya que el circuito es amateur:
http://internationalpadel.com/ipe-2016/[:en]The International Padel Experience by Madison, sponsored by Estrella Damm, faces his eighth stage in the Iberian Peninsula with the appointment of Lisbon, from 9 to 11 September at the Club Padel Campo Grande.
The circuit faces a test in which the expectation is high, due to the tremendous boom that sport blade in Portugal and of course, by the desire of players to win excellent prizes which puts at stake the IPE Madison by 2016.
Lisbon will be the next opportunity for the champions of the top flight get two hotel nights for the final at the DoubleTree by Hilton Resort & Spa Higueron, shovels high-end Bullpadel products Gripping Gel and two tickets Estrella Damm Master Final.
The other winners will receive sports equipment Bullpadel. And only for participating in the circuit players will receive a great welcome pack, consisting of comfortable Gymsack and the official pole of the International Padel Experience Madison by 2016.
Undoubtedly, great incentives that raise the enormous interest aroused itself and tournaments Padel International Experience by Madison. Besides the prizes for all categories, Estrella Damm, main sponsor of the circuit, also will award participants with its always refreshing and Mediterranean beer.
If you have not yet done, you can already register for any upcoming tournaments. It's as easy as clicking on the link below and fill in the details. all players and players who wish can participate, whatever their level, as the circuit is amateur: