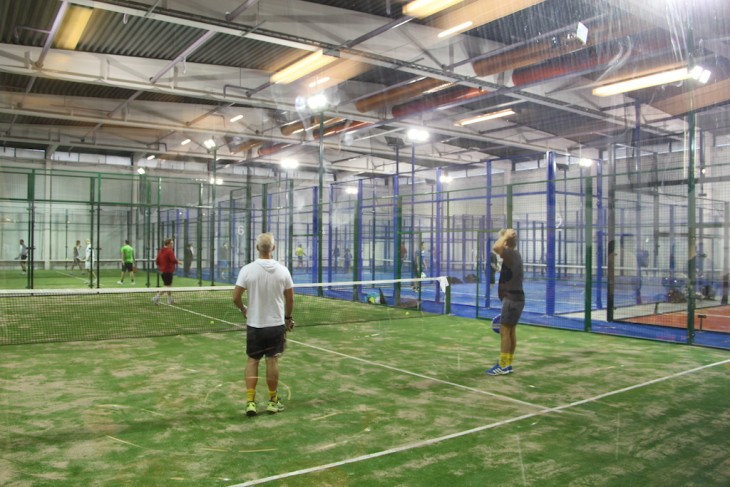 [:es]Solo queda un día para que el International Padel Experience by Madison, patrocinado por Estrella Damm, llegue a Malmö,  la penúltima parada del único circuito internacional de pádel amateur.
El Club Malmö Padel center será el encargado de acoger del 28 al 30 de octubre con gran expectación la décimo tercera prueba del circuito en un país en el que el pádel se ha convertido en una auténtica revolución.
Los estudios estiman que hay cerca de más de 10.000 practicantes de pádel en Suecia, mientras que el número de pistas construidas ronda el medio centenar. Estas cifras corroboran que el pádel ya está totalmente implantado en un país con una gran afición por el deporte de raqueta, que ya conoce en primera persona la magia del pádel.
Situado en las inmediaciones del Beijers Park, Malmö Padelcenter es uno de los centros de referencia en el país por sus fantásticos servicios e instalaciones.
Cuenta con seis pistas cubiertas con altura libre superior a 7 metros. Todas están homologadas para poder realizar campeonatos oficiales, con la separación entre pistas de algo más de 4 metros. Además como complementos el club dispone de un vestuario con capacidad para 100 personas, un restaurante y un amplio aparcamiento.
Este gran club es uno de los grandes reclamos del Malmö Open, al igual que sus fabulosos premios. Los campeones de la máxima categoría serán dos noches de hotel para disputar la final en el DoubleTree by Hilton Resort & Spa Reserva del Higuerón, palas de alta gama de Bullpadel y dos entradas para el Estrella Damm Master Final.
Además, el resto de vencedores recibirán material deportivo de Bullpadel y todos los jugadores podrán saborear las virtudes de la cerveza Estrella Damm, que estará presente en durante todas las jornadas. Y solamente por participar en el Malmö Open los jugadores recibirán un magnífico welcome pack, compuesto por un cómodo gymsack y el polo oficial del International Padel Experience by Madison 2016. [:en]Only one day left for the International Padel Experience by Madison, sponsored by Estrella Damm, come to Malmo, the penultimate stop of the only international amateur circuit paddle.
Padel Club Malmö center will be in charge of hosting from 28 to 30 October with great expectation the thirteenth circuit test in a country where paddle tennis has become a real revolution.
Studies estimate that there are about 10,000 practitioners paddle in Sweden, while the number of tracks built round the fifty. These figures confirm that the paddle is already fully implemented in a country with a fondness for racket sports, you already know firsthand the magic of the paddle.
Located near the Beijers Park, Malmo Padelcenter is one of the reference centers in the country for their fantastic services and facilities.
It has six indoor courts with more than 7 meters headroom. All are certified to perform official championships, with the separation between tracks of just over 4 meters. In addition as complements the club has a dressing room with capacity for 100 people, a restaurant and ample parking.
This great club is one of the major claims of Malmö Open, like their fabulous prizes. The champions of the top flight will be two hotel nights for the final at the DoubleTree by Hilton Resort & Spa Higueron, high-end blades Bullpadel and two tickets to the Final Master Estrella Damm.
In addition, other winners will receive sports equipment Bullpadel and all players can enjoy the virtues of beer Estrella Damm, who will attend for all days. And only for participating in the Malmo Open players will receive a great welcome pack, consisting of a comfortable Gymsack and the official pole of the International Padel Experience Madison by 2016.[:]