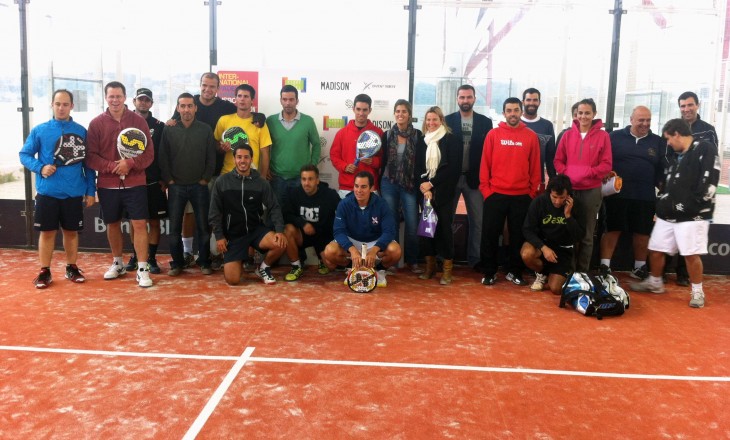 [:es]En 48 horas comienza una de las pruebas más multitudinarias del International Padel Experience by Madison, patrocinado por Estrella Damm.
Las fantásticas instalaciones del Padel Club de Campo Grande acogen durante este fin de semana la octava parada del circuito ante una gran expectación, debido al gran éxito cosechado en los últimos años.
Hoy remontamos la mirada hasta el año 2013, en el que se vivieron partidos de gran emoción y se vivió un espectáculo insólito en la capital portuguesa.
Miguel Oliveira y Pedro Plantier se coronaron en la máxima categoría masculina tras firmas un torneo perfecto, cerrado en la final ante sus compatriotas Joao Antunes y Goçalo Nicau por 6-1 y 7-5. El nivel del pádel portugués demostraba su crecimiento en los últimos años y la final de la categoría A fue un reflejo de las excelentes cualidades de los jugadores locales.
Y si la final A masculina resultó trepidante, el último partido de la categoría B no le fue a la zaga. El triunfo correspondió a Diogo Schaffer y Pedro Nunes, que salieron vencedores del duelo ante Marco Santos y Joao Borges por (6-1 y 6-3).
En la categoría C la gloria correspondió a Pedro Pais y Louis Alexis, que se impusieron a Jose Fernandes y Nuno Rocha (6-3 y 6-3), mientras que el triunfo en la competición D masculina fue para Diego y Vitor Sa, que doblegaron a Paulo y Vitor Ferreira (6-3 y 7-6).
Concluyó así la segunda etapa del circuito 2013, dejando de nuevo evidente que el pádel es uno de los deportes más seguidos del pádel luso.
[:en]Within 48 hours begins one of the most massive testing Padel International Experience by Madison, sponsored by Estrella Damm.
The fantastic facilities Padel Club of Campo Grande host for this weekend's eighth stop circuit to great expectations due to the great success achieved in recent years.
Today gaze go back to 2013, in which parties were experienced great emotion and an unusual show took place in the Portuguese capital.
Miguel Oliveira and Pedro Plantier were crowned in the men's top firms after a perfect tournament, closed in the final against their compatriots Joao Antunes and Goçalo Nicau 6-1, 7-5. Portuguese pádel level showed growth in recent years and the end of the category A was a reflection of the excellent qualities of local players.
And if the final A male was exciting, the last game of the category B was not far behind him. The victory corresponded to Diogo Schaffer and Pedro Nunes, who emerged victorious in the match against Marco Santos and Joao Borges (6-1, 6-3).
In category C the glory corresponded to Pedro Pais and Louis Alexis, which were imposed on Jose Fernandes and Nuno Rocha (6-3, 6-3), while victory in the men's competition was for Diego D and Vitor Sa, which they bowed to Paulo Vitor Ferreira (6-3, 7-6).
This completed the second stage of the circuit 2013, again leaving clear that the paddle is one of the most followed sports of Portugal.[:]