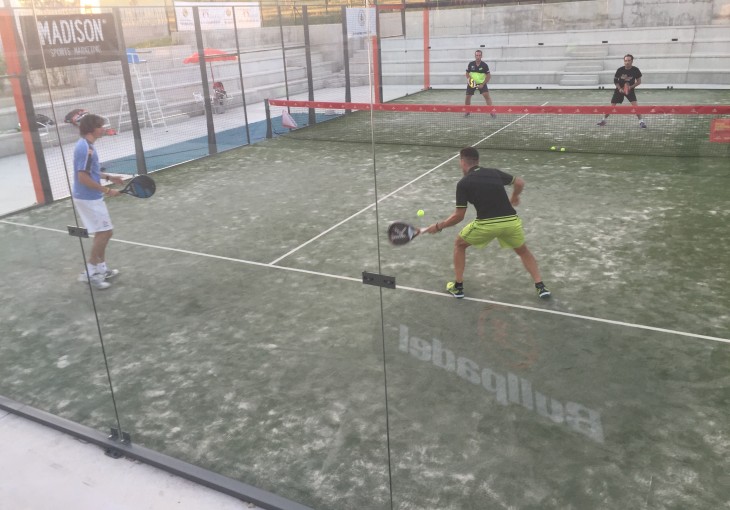 [:es]La quinta prueba del International Padel Experience by Madison, patrocinado por Estrella Damm ha vuelto a vivir un día lleno de grandes partidos y emoción en todos ellos, en un Club Raqueta Valladolid en el que los jugadores y aficionados que han acudido a disfrutar del único circuito internacional de pádel amateur.
De nuevo, Sin interrupción, las pistas del Club Raqueta han disfrutado de una segunda jornada del Valladolid Open con los partidos correspondientes a las categorías A, B y C masculinas y la femenina y mixta donde de nuevo ha vuelto a quedar latente el gran nivel de juego que hay en esta ciudad, al igual que la expectación que hay por este deporte.
La categoría masculina A nos ha dejado partidos de alta tensión e igualdad máxima. Las parejas formadas por Manuel Prado-Diego González, Roberto San Juan-Rafael Vázquez y Sebastián Iranzo-Víctor Recuero ya están en semifinales del Valladolid Open tras resolver sus encuentros demostrando un gran nivel de juego y una depurada técnica.
Muy alto también el nivel de la categoría femenina, en la que la pareja Laura Abón-Mª Paz Pérez ha sido una de las más destacadas del día, aunque en el partido de cuartos de final, el más emocionante del día, han sufrido para derrotar a Olga Fernández -Rebeca Velasco (6-4 4-6 10-12). Marta Velilla y Emi del Río también están en semifinales al doblegar a sus contrincantes con menos apuros.
Las categorías B y C masculinas han dejado claro que la pasión por este deporte en Valladolid es inmensa. En categoría B, Jaime Cadenas y Alberto González se enfrentarán a Marino Martín y Juan C. Villa mientras que Andrés del Pozo y Medardo Acebes se verán las caras con Eduardo Arranz y Jose L. Martínez. En cuanto a la C, Oscar D. Rodriguez y Santiago San José son los primeros finalistas, que se enfrentarán a la pareja Jose Mª González – Vicente González.
En el cuadro mixto ya conocemos a una de las parejas finalistas. La dupla formada por Alicia Menéndez y Alberto Menéndez han logrado el pase al partido definitivo tras imponer su solvente juego y compenetración en la pista. Lucharán el título a la dupla vencedora del cruce entre Beatriz Abril-Ignacio Hernanz y Roberto Abarca – Laura Martín.
Mañana continúa el espectáculo en el Club Raqueta Valladolid con la disputa de más partidos en todas las categorías.
Puedes consultar todos los resultados y partidos de mañana pinchando en el siguiente enlace:
http://internationalpadel.com/valladolid2016/
[:en]The fifth round of the International Padel Experience by Madison, sponsored by Estrella Damm has relived a day full of great games and excitement in all of them, in a Club Racquet Valladolid in which players and fans who have come to enjoy the unique circuit international amateur paddle.
Again, without interruption, tracks Club Racquet have enjoyed a second day of Valladolid Open with parties for the categories A, B and masculine C and female and mixed which again has again become dormant the high level of game there is in this city, like the expectation there for the sport.
The men's games has left us with high voltage and maximum equality. Couples formed by Manuel Prado-Diego Gonzalez, Roberto San Juan-Sebastian Vazquez and Rafael Iranzo-Victor Recuero are already in Valladolid Open semifinals after resolving their encounters showing a great level of play and a refined technique.
Very high also the level of the women's category, in which the couple Laura Abbo-Mª Paz Perez has been one of the highlights of the day, although in the quarter-finals, the most exciting of the day, have suffered to defeat Olga Fernández Rebeca Velasco (6-4 4-6 10-12). Marta and Emi Velilla del Rio are also in the semifinals to overwhelm his opponents with less trouble.
Categories B and C men have made it clear that the passion for this sport in Valladolid is immense. In category B, Jaime Alberto González Cadenas and will face Marino Martin and Juan C. Villa while Andrés del Pozo and Medardo Acebes faces with Eduardo Arranz and Jose L. Martinez will be. As for C, D. Oscar Santiago Rodriguez and San Jose are the top finishers, they expect rival cross between Manuel Quina – Agustín and Jose Maria Gonzalez Bastard – Vicente González.
In the mixed picture already we know a finalist couples. The duo formed by Alicia Menendez and Alberto Menendez have made the pass to the final game after game and impose their solvent interpenetration on the track. They will fight the title to the winning pair of cross between April-Ignacio Hernanz Beatriz and Roberto Abarca – Laura Martin.
Tomorrow continues the show at the Racquet Club Valladolid with the dispute of more games in all categories.
You can see all the results and matches tomorrow clicking on the following link:
http://internationalpadel.com/valladolid2016/[:]