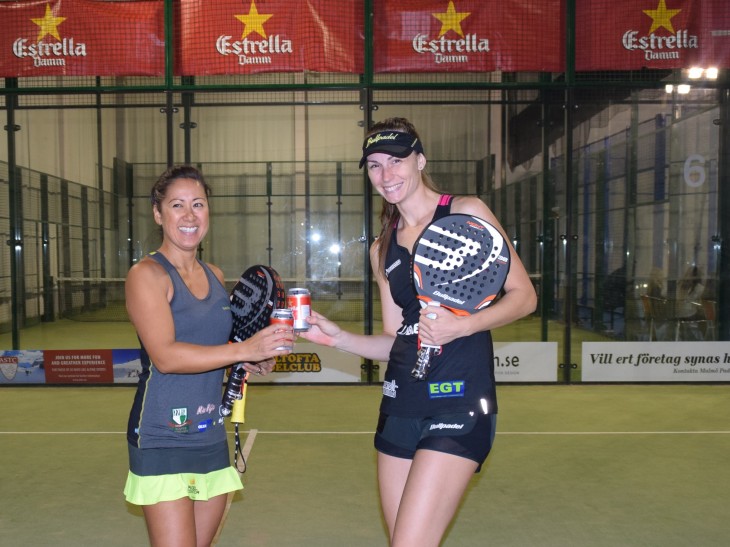 [:es]Jornada final del Malmö Open en un Malmö Padelcenter que se engalanó para vivir por primera vez una cita del International Padel Experience by Madison, patrocinado por Estrella Damm.
Tras la victoria de  ayer de Bobby Seger y Andreas Palsson en categoría A masculina, hoy era el turno de conocer a las parejas vencedoras de los cuadros masculino B y C y de las categorías femeninas A y B, que durante el fin de semana nos han dejado partidos de máxima igualdad ante una multitud de seguidores que se han acercado al club sueco para disfrutar del deporte de moda del país escandinavo.
La pareja formada por Billie Gajic y Antonette Andersson ha impuesto su ley en la categoría A femenina con un juego astuto  y contundente demostrando una gran compenetración sobre las pistas suecas y haciendo valer su número uno en el ránking nacional. Esta dupla se alzaba con el título tras derrotar en su competición con formato cuadrangular a las parejas Roslund/ Sonesson, Sterning/ Schylander y  Åkerberg/ Eriksson. Sin ceder ni un solo set, las flamantes campeonas del Malmö Open se alzaron con el premio final antes de acudir a la cita mundialística de Lisboa representando a Suecia. Además, las jugadoras recibieron sus dos noches de hotel para disputar la final en el DoubleTree by Hilton Resort & Spa Reserva del Higuerón, palas de alta gama de Bullpadel y dos entradas para el Estrella Damm Master Final.
En el resto de categorías los vencedores fueron Magnus Bergström y Pontus Olsson, que ganaron en la competición B masculina a Andre Schlyter y Johann Eriksson (6-2 y 6-3); Mikael Landon y Mikael Lindhe que pasaportaron a Lasse Jennfors y O Björkdahl por 6-2 y 6-4 en la categoría C masculina; y Birgitta Bengston junto a Anntherese Akesson, que obtuvieron el máximo galardón en la prueba B femenina tras doblegar a M. Erlandsson y F Bengtsson en dos trabajadas mangas (6-2 y 6-1).
Con los campeones en el primer peldaño del podio, el Malmö Open clausuró un excelente fin de semana de pádel en el Malmö Padelcenter, que albergó de manera sobresaliente el International Padel Experience by Madison. Sin tiempo para el descanso, el circuito enfila ahora el camino hacia su etapa final, que tendrá lugar en las magníficas instalaciones de DoubleTree by Hilton Resort & Spa Reserva del Higuerón (Fuengirola), del 25 al 27 de noviembre.
Puedes consultar todos los horarios y cuadros de juego pinchando en el siguiente enlace:
http://internationalpadel.com/malmo2016/[:en]Final day of Malmo Open in a Padelcenter that graced to live for the first time a quote from the International Padel Experience by Madison, sponsored by Estrella Damm.
After yesterday's victory of Bobby Seger and Andreas Palsson in category A male, today was the turn to meet the victorious partners of male Tables B and C and women's categories A and B, during the weekend we have left parties maximum equality before a crowd of supporters who have approached the Swedish club to enjoy the sport trendy Scandinavian country.
The pair formed by Billie Gajic and Antonette Andersson has imposed its law in category A female with a shrewd and forceful game showing great rapport on the Swedish tracks and asserting their number one national ranking. This pair stood with the title after defeating in its competition with quadrangular format the Roslund / Sonesson, Sterning / Schylander and Åkerberg / Eriksson couples. Without dropping a set, the flamboyant Open champions Malmo picked up the prize before attending the appointment Lisbon mundialística representing Sweden. In addition, the players received their two hotel nights for the final at the DoubleTree by Hilton Resort & Spa Higueron, high-end blades Bullpadel and two tickets to the Final Master Estrella Damm.
In the other categories the winners were and Pontus Bergström Magnus Olsson, who won in competition B male to Andre Schlyter and Johann Eriksson (6-2, 6-3); Landon and Mikael Mikael Lindhe that pasaportaron Lasse Jennfors and O Björkdahl 6-2 6-4 in the male category C; and Birgitta Bengtson with Anntherese Akesson, who obtained the highest award in the female test B after beating M. Erlandsson and F Bengtsson worked two sets (6-2, 6-1).
With the champions on the top step of the podium, the Malmo Open closed an excellent weekend paddle in Malmo Padelcenter, which housed outstandingly by the International Padel Experience Madison. No time for rest, the circuit now lines up the way to its final stage, which will take place in the magnificent facilities of DoubleTree by Hilton Resort & Spa Higueron (Fuengirola), from 25 to 27 November.
You can check all schedules and game boxes by clicking on the link below: