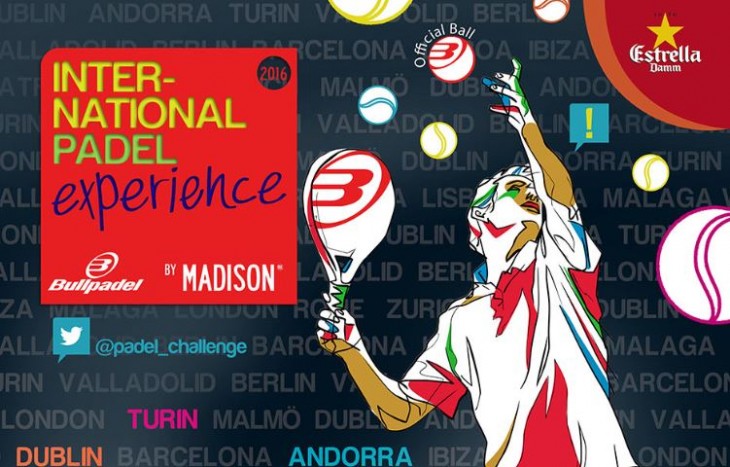 [:es]El International Padel Experience by Madison 2016 ya tiene calendario y punto de partida. El circuito, con Bullpadel y Estrella Damm como patrocinadores principales, arrancará el último fin de semana de abril en Turín y este año da un paso adelante con presencia en nueve países y la incorporación de nuevas sedes, lo que redundará en el beneficio de los jugadores amateur que quieran disfrutar de su deporte preferido en ciudades de referencia a nivel internacional como Londres, Lisboa, Barcelona o Roma, entre otras.
Con diez sedes internacionales ya confirmadas y cuatro en España, el IPE by Madison trabaja estos días para completar un calendario al que se pueden incorporar tres ciudades más, ninguna de ellas en suelo español.
El Máster Club de Turín dará el pistoletazo de salida y tras esta prueba inaugural (29 de abril al 1 de mayo), el International Padel Experience by Madison suma a su calendario la primera de las novedades de esta temporada, el Rockbrook Padel Club de Dublín, que recibirá al circuito el fin de semana del 6 al 8 de mayo. A continuación, se asoma al escaparate del mejor pádel amateur internacional otra sede que se estrena este año en el IPE. El Club Serradells, en Andorra, debutará del 20 al 22 de mayo para completar un primer mes de competición que se presenta apasionante.
Tras estas dos novedades, el IPE by Madison aterrizará en Berlín, que repite como sede en el Padel Club Berlín International, del 10 al 12 de julio, y se convertirá en el mejor aperitivo del World Padel Tour de Valladolid del 29 de junio al 3 de julio. Tras el ya clásico torneo en el vallisoletano Club de la Raqueta, el circuito desembarcará en otra de las incorporaciones del presente curso. Zurich (Suiza), a través del club TCU Pádel, albergará la sexta parada del International Padel Experience by Madison del 8 al 10 de julio. Una semana más tarde, del 15 al 17 del mismo mes y antes de llegar al parón de agosto, el circuito debutará en Barcelona, ciudad que llega al IPE para sustituir a Madrid, donde en esta ocasión no habrá torneo.
Tras el paréntesis veraniego, el IPE by Madison recupera la prueba en Lisboa, del 9 al 11 de septiembre en el Club Padel Campo Grande, y volverá a Londres, donde no estuvo en 2015, para convertir al David Lloyd Busley en el epicentro del pádel amateur internacional del 23 al 25 de septiembre.
En la parte final del calendario confirmado, Ibiza (14 al 16 de octubre), Roma, que contará con dos etapas, Malmö (28-30 de octubre), y Reserva del Higuerón, que será de nuevo el escenario de la final (del 25 al 27 de noviembre), completan un año que se prevé espectacular dentro de un IPE by Madison, que este año sopla las velas de su quinto aniversario con la compañía de Bullpadel y Estrella Damm como patrocinadores principales, además de los media partner ya habituales, Padel Spain y Padel Absolute.
Los campeones de la máxima categoría de todos los torneos obtendrán como premio dos noches de hotel para disputar la final en Reserva del Higuerón, así como palas de alta gama de Bullpadel y dos entradas para el Estrella Damm Master Final. Además, el resto de vencedores recibirán material deportivo de Bullpadel y todos los jugadores podrán saborear las virtudes de la cerveza Estrella Damm que estará presente en todas las etapas del circuito.
Con 14 sedes ya confirmadas, Madison mantiene abierta la confección del calendario y es más que posible que, en los próximos días, dos ciudades más completen una temporada que se iría a un máximo de 16 citas (4 nacionales y 12 internacionales).
Todo está listo para que la bola comience a botar en el International Padel Experience by Madison. Los jugadores solo tienen que entrar en www.internationalpadel.com y elegir sede. El mejor pádel amateur y el turismo de calidad vuelven a fundirse en un proyecto que continúa evolucionando y que ya es una referencia a nivel nacional e internacional.[:en]The International Padel Experience Madison by 2016 and has calendar and starting point. The circuit, with Bullpadel and Estrella Damm as main sponsors, will start the last weekend of April in Turin and this year takes a step forward with a presence in nine countries and the incorporation of new offices, which will result in the benefit of the players amateur who want to enjoy your favorite sport in reference cities worldwide including London, Lisbon, Barcelona and Rome, among others.
With ten international venues already confirmed and four in Spain, the IPE by Madison works these days to complete a calendar that can be incorporated three cities, none of them in Spanish soil.
The Master Club of Turin will kick off and after this opening round (April 29 to May 1), the International Padel Experience by Madison adds to its schedule the first of the novelties of this season, the Rockbrook Padel Club Dublin which receive the circuit over the weekend from 6 to 8 May. Then it looks to showcase the best international amateur pádel another venue which opens this year's IPE. The Serradells Club in Andorra, debuting 20 to May 22 to complete a first month of competition that is exciting.
After these two developments, the IPE by Madison will land in Berlin, which repeats as host in the Padel Club Berlin International, from 10 to 12 July, and will become the best appetizer of World Padel Tour de Valladolid from 29 June to 3 of July. After the classic tournament vallisoletano Racket Club, the circuit landed in another of the embodiments of this course. Zurich (Switzerland), through the TCU Padel club, will host the sixth stop of the International Padel Experience by Madison from 8 to 10 July. A week later, 15 to 17 of the same month and before the August break, the circuit will debut in Barcelona, ​​reaching the IPE to replace Madrid, where this time there will be no tournament.
After the summer break, the IPE by Madison retrieves the test in Lisbon from 9 to 11 September at the Club Padel Campo Grande, and return to London, where he was not in 2015, to convert the David Lloyd Busley at the epicenter of pádel international amateur from 23 to 25 September.
At the end of the confirmed schedule, Ibiza (14 to 16 October), Rome, which will have two stages, Malmo (October 28-30), and Higueron, which will again be the setting for the final (the 25 to 27 November), complete a year which is expected to dramatically within a IPE by Madison, which this year blows out the candles on his fifth anniversary with the company Bullpadel and Estrella Damm as main sponsors, besides the media partner and common , Spain and Padel Padel Absolute.
The champions of the highest category of all tournaments get as a reward two hotel nights for the final in Higueron, as well as high-end blades Bullpadel and two tickets to the Final Master Estrella Damm. In addition, other winners will receive sports equipment Bullpadel and all players can enjoy the virtues of beer Estrella Damm will be present at all stages of the circuit.
With 14 locations already confirmed, Madison kept open calendar making and is more than possible that in the coming days, two more cities to complete a season that would go up to 16 appointments (international national 4 and 12).
Everything is ready for the ball to start bouncing on the International Padel Experience by Madison. Players only have to enter www.internationalpadel.com and choose based. The best amateur paddle tennis and quality tourism remelting in a project that continues to evolve and is already a reference to national and international level.[:]