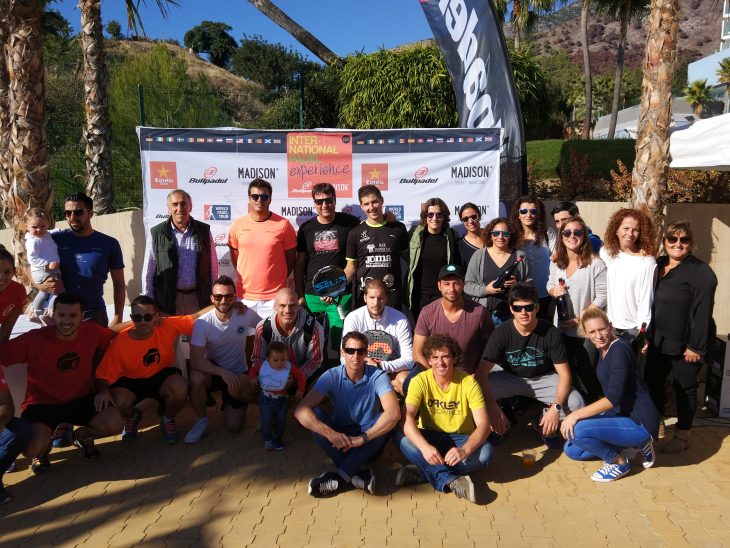 [:es]El International Padel Experience by Madison, único circuito internacional de pádel amateur, celebraba este domingo la última jornada del Master Final, broche de oro de una competición que ha llevado el pádel por 14 países de tres continentes a lo largo de 20 pruebas.
La mañana se despertaba soleada, un buen clima preludio de lo que sería la competición, que en este domingo acogía los últimos partidos del duelo de campeones.
Las semifinales daban comienzo a las 10 de la mañana en las pistas de Reserva del Higuerón Resort, un escenario idílico para una competición de altura.
Las féminas eran las primeras en lanzarse a la pista en dos intensos encuentros en los que, pese a plantar cara y mostrar un grandísimo nivel, las parejas internacionales no lograron imponerse a las locales.
De este modo, las parejas Peña/Junco y Piccolo/Giffuni decían adiós a una competición a la que llegaban como campeonas de los Open de Valladolid y Padova.
La gran final femenina enfrentaba a las 12 de la mañana a las parejas Alcaraz/Medina y Gil Ramírez. Tras una intensa disputa en la final que se convertiría en un derbi malagueño, eran Mely Álvarez y Ana Medina, que se imponían a sus contrincantes con un resultado de 6-3/6-3 que no reflejaba con justicia el igualado nivel de las parejas.
Por su parte, en categoría masculina la dupla Cárdenas/Alcantara se convertía en finalista de la competición por W.O. tras el abandono por lesión de Marcos Tur y Pere Tarrés (ganadores del Ibiza Open).
La segunda semifinal se convertía en un espectáculo de juego que se alargaba hora y media, mostrando unos puntos y remates dignos de profesionales. Este encuentro se resolvía a favor de un jovencísimo Iván Arrondo y su compañero Mario Lozano, dejando fuera a los campeones de Suiza, Jero Cañas y Edu Espona.
La final masculina daba comienzo poco antes de las 13h en la pista central, contando con gran expectación y animación por parte del gran número de aficionados, jugadores y visitantes que no querían perderse el desenlace del torneo. Los nervios y las ganas de ganar hicieron mella en ocasiones en ambas parejas, pero supieron reponerse y ofrecer un espectacular juego que hizo las delicias del público y se resolvió en un igualadísimo tercer set.
El Master Final se despedía de Málaga con la entrega de premios a los ganadores, que los recibieron de manos de Daniel Redondo, director de Madison; Fernando Porras, responsable de patrocinio en eventos deportivos de Bullpadel y Guillermo del Grosso, Director de Marketing de Reserva del Higuerón Resort.
Por su parte, el Málaga Open, último torneo de la temporada del International Padel Experience by Madison y jugado en paralelo al Master Final, continuaba la competición de masculino By C, femenino B y mixto, cuyas finales se reservaban para la tarde.
[:en]The International Padel Experience by Madison, the only international circuit of amateur padel, celebrated on Sunday the last day of the Final Master, the finishing touch of a competition that has taken the padel through 14 countries on three continents throughout 20 events.
The morning woke up sunny, a good climate prelude to what would be the competition, which this Sunday hosted the last matches of the duel of champions.
The semifinals began at 10 o'clock in the morning at the Reserva del Higuerón Resort courts, an idyllic setting for a high-altitude competition.
The women were the first to take to the track in two intense matches in which, despite standing up and show a great level, international couples failed to prevail on the premises.
In this way, the couples Peña / Junco and Piccolo / Giffuni said goodbye to a competition that they reached as champions of the Open of Valladolid and Padova.
The grand women's final faced the couples Alcaraz / Medina and Gil Ramírez at 12 in the morning. After an intense dispute in the final that would become a Malaga derby, it was Mely Álvarez and Ana Medina, who beat their opponents with a score of 6-3 / 6-3 that did not fairly reflect the even level of the pairs.
On the other hand, in the men's category, the Cardenas / Alcantara duo became finalists in the competition for W.O. after the abandonment by injury of Marcos Tur and Pere Tarrés (winners of the Ibiza Open).
The second semifinal became a game show that lasted an hour and a half, showing some points and shots worthy of professionals. This meeting was resolved in favor of a very young Ivan Arrondo and his teammate Mario Lozano, leaving out the champions of Switzerland, Jero Cañas and Edu Espona.
The men's final started shortly before 1pm on the central court, with great expectations and animation from the large number of fans, players and visitors who did not want to miss the outcome of the tournament. The nerves and the desire to win made a dent sometimes in both pairs, but they knew how to recover and offer a spectacular game that delighted the public and resolved itself in an equal third set.
The Final Master bid farewell to Málaga with the awarding of prizes to the winners, who received them from Daniel Redondo, CEO of Madison; Fernando Porras, responsible for sponsorship of sporting events of Bullpadel and Guillermo del Grosso, Marketing Manager of Reserva del Higuerón Resort.
For its part, the Málaga Open, the last tournament of the International Padel Experience by Madison season and played in parallel to the Final Master, continued the competition of male By C, female B and mixed, whose finals were reserved for the afternoon.[:]