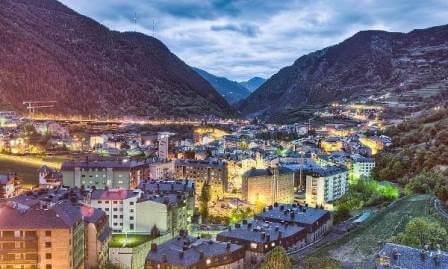 [:es]
El Principado de Andorra es uno de los pequeños países que forman parte de Europa. 468 km cuadrados de extensión en plenos Pirineos y casi 80.000 habitantes son muestra de lo diminuto que es este país, haciendo frontera con gigantes europeos como España y Francia. 
Pocos lugares en el mundo pueden presumir de contar con un 90% de naturaleza, es el auténtico paraíso verde de Europa. 3 parques naturales, unos 70 lagos y 65 picos de más de 2.500 metros de altitud son parte del medio ambiente andorrano.  El 10 % de su territorio es patrimonio de la humanidad declarado por la Unesco en la categoría de paisaje cultural.
Las antiguas bordas, construcciones rústicas aisladas muy típicas del Principado, se utilizaban para alojar al ganado y guardar utensilios agrícolas, pero en la actualidad se han convertido en restaurantes, en los que se puede degustar la gastronomía típica andorrana en un ambiente muy particular. Además, no puedes irte de Andorra sin visitar algunas de sus iglesias románicas, no todas, ya que cuenta con 44 pero si las más representativas. 
Andorra «La Vella», su capital, es una ciudad completamente modernizada y con todos los lujos comparables a los de cualquier gran metrópoli. Un país perfecto para la práctica de muchos deportes: esquí, rafting, senderismo, ciclismo, escalada, golf (cuenta con el campo de golf situado a mayor altitud) y por supuesto, mucho pádel. 
Del 11 al 13 de mayo, Andorra recibirá el quinto episodio del International Padel Experience by Madison donde todos los asistentes podrán disfrutar de su deporte favorito y de la magia del Principado.
[:en]
The Principality of Andorra is one of the small countries that are part of Europe. 468 sq km in full Pyrenees and almost 80,000 inhabitants are a sample of how tiny this country is, bordering European giants such as Spain and France.
Few places in the world can boast of having 90% of nature, it is the true green paradise of Europe. 3 natural parks, some 70 lakes and 65 peaks over 2,500 meters high are part of the Andorran environment. 10% of its territory is a World Heritage Site declared by Unesco in the category of cultural landscape.
The old huts, isolated rustic constructions very typical of the Principality, were used to house cattle and store agricultural tools, but nowadays they have become restaurants, where you can taste the typical Andorran cuisine in a very particular atmosphere. In addition, you can not leave Andorra without visiting some of its Romanesque churches, not all, as it has 44 but the most representative.
Andorra «La Vella», its capital, is a completely modernized city with all the luxuries comparable to those of any great metropolis. A perfect country for the practice of many sports: skiing, rafting, hiking, biking, climbing, golf (has the golf course located at higher altitude) and of course, a lot of paddle tennis.
From 11 to 13 May, Andorra will receive the fourth episode of the International Padel Experience by Madison where all attendees can enjoy their favorite sport and the magic of the Principality.
[:]