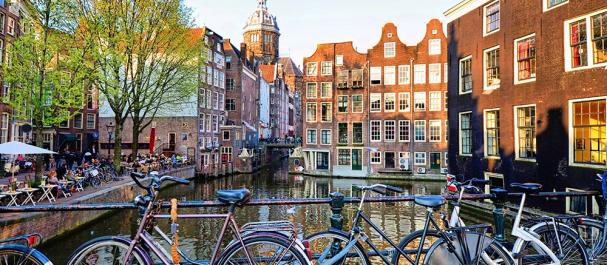 [:es]Todos los aficionados al pádel en el país de los tulipanes están de enhorabuena ya que Amsterdam es la ciudad elegida para acoger la séptima prueba del International Padel Experience by Madison patrocinado por Estrella Damm. 
A partir del 5 de agosto y hasta el 7, la capital de los Países Bajos vivirá un circuito enfocado al desarrollo del pádel amateur a nivel internacional, y dará la oportunidad a todos los participantes de poner en práctica todo lo aprendido en sus clases de pádel, competir con gente de su nivel y participar en un evento que supone un oportunidad para disfrutar de una experiencia única y en un entorno de amistad y deporte.
La cita de Amsterdam se disputará en el Play Padel Club, uno de los centros referencia de la ciudad y que cuenta con un complejo deportivo a la altura del único circuito internacional de pádel amateur.
Sin duda, una opción fantástica para disfrutar del mejor pádel amateur en una ciudad imprescindible que debes conocer.
Os recordamos que los premios para los campeones de la máxima categoría de todos los torneos serán dos noches de hotel para disputar la final en el DoubleTree by Hilton Resort & Spa Reserva del Higuerón, palas de alta gama de Bullpadel y dos entradas para el Estrella Damm Master Final.
Además, el resto de vencedores recibirán material deportivo de Bullpadel y todos los jugadores podrán saborear las virtudes de la cerveza Estrella Damm, que estará presente en todas las etapas del circuito. Y solamente por participar en el circuito los jugadores recibirán un magnífico welcome pack, compuesto por cómodo gymsack y el polo oficial del circuito.
Planea con antelación tu viaje e inscríbete a la prueba de Amsterdam del International Padel Experience by Madison 2016:
http://internationalpadel.com/amsterdam2016/[:en]All padel fans in the country of the tulips are in luck because Amsterdam is the city chosen to host the seventh round of the International Padel Experience Madison sponsored by Estrella Damm.
From August 5th to 7th, the capital of the Netherlands live a focused development of amateur pádel international circuit and give the opportunity to all participants to put into practice everything learned in their classes pádel , compete with people on their level and participate in an event which is an opportunity to enjoy a unique experience in an environment of friendship and sport.
The appointment will be held in Amsterdam Play Padel Club, one of the reference centers in the city and has a sports complex at the height of the only international amateur circuit paddle.
Certainly a great choice to enjoy the best amateur paddle an essential city you need to know.
We remind you that the prizes for champions of the highest category of all tournaments are two hotel nights for the final at the DoubleTree by Hilton Resort & Spa Higueron, shovels high-end Bullpadel and two tickets to the Estrella Damm Master Final.
In addition, other winners will receive sports equipment Bullpadel and all players can enjoy the virtues of beer Estrella Damm, who will be present at all stages of the circuit. And only for participating in the circuit players will receive a great welcome pack, consisting of comfortable Gymsack and the official polo circuit.
Plan ahead and register your trip to Amsterdam test by the International Padel Experience 2016 Madison: