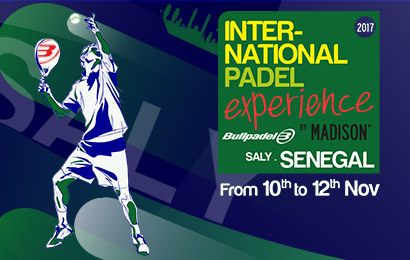 [:es]Ya te lo adelantamos hace unas semanas… ¡El International Padel Experience by Madison llega por primera vez al continente africano!
El único circuito internacional de pádel amateur hará las maletas para trasladarse al Club Padel Senegal, donde se celebrará el Saly Open, decimonovena prueba del torneo.
El Saly Open tendrá lugar del 10 al 12 de noviembre y podrán participar parejas de las categorías masculina A y B, así como femenina B.
Desde este momento, abrimos las inscripciones para participar en una experiencia única, que permitirá a los jugadores no solo disfrutar del deporte de moda, sino descubrir un país y una cultura hasta el momento desconocido por muchos.
Permanece muy atento a nuestra página, ya que muy pronto te daremos más detalles sobre el que será último torneo antes de la prueba final en Fuengirola.
¡Hasta pronto padel lovers![:en]We told you a few weeks ago … The International Padel Experience by Madison is coming to the African continent for the first time!
The only international amateur paddle circuit will travel to the Club Padel Senegal, where the Saly Open will be held, the nineteenth event of the tournament.
The Saly Open will take place from 10th to 12th November and may participate in male A and B, as well as female B.
From this moment, we open the inscriptions to participate in a unique experience, that will allow the players not only to enjoy the sport of fashion, but to discover a country and a culture so far unknown by many.
Stay tuned to our page, as we will soon give you more details about what will be the last tournament before the final open in Fuengirola.
See you soon padel lovers![:]