[:es]
FICHA TÉCNICA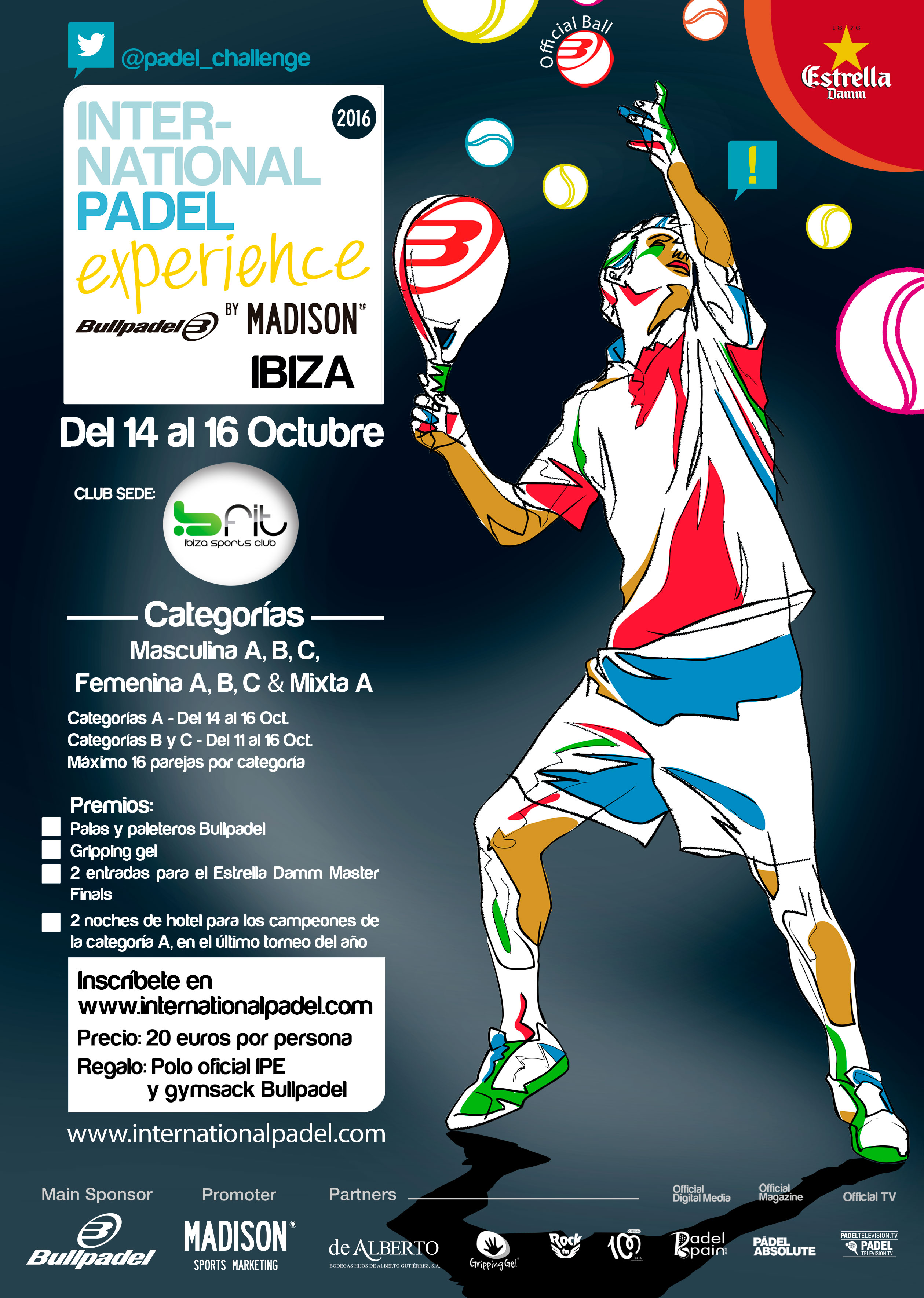 PATROCINADORES
EL CLUB
iBfit Ibiza Sports Club cuenta con 4 pistas de padel de hierba artificial y 1 pista individual única en la isla de Ibiza. Todas las pistas son panorámicas y de moderno diseño.
La sección de pádel está dirigida por Oscar Not, Subcampeón del Mundo y 3 años consecutivos número 1 en el Ranking español. Este deporte que cuenta cada vez con más practicantes, es apto para todas las edades y todos los niveles.
Calle Metge Domingo Nicolau Balançat, Sector 4,07800 Ibiza
971 80 68 85
PREMIOS
Categoría A Masculina
Categoría A Femenina
Categoría B Masculina
Categoría B Femenina
Categoría C
Campeón
Pala Black Metal 16
Pala Night 16
Pala K2 Evo
Pala Kata Light 15
Pala BP10 EVO16
205,00€
170,00€
140,00€
120,00€
120,00€
Subcampeón
Paletero BBP
Mochila BMP
Mochila BMP
54,00€
44,00€
44,00€
*Además a los campeones masculinos y femeninos de la categoría A recibirán también los siguientes premios:
Obsequio de Gripping Gel
2 entradas para el Estrella Damm Master Finals
2 noches de hotel para el último torneo del año
CLASIFICACIÓN
Masculina A
Puntuación
Masculina B
Puntuación
Campeón
Marcos Tur – Carlos Tur
950
A. PEREZ ‐ J. MONTY
790
Subcampeón
M. Sánchez – R. Ramírez
900
F. VALVERDE ‐ A. HERNAN
740
Semifinalistas
J. A. Quintero – K. Valenzuela
U. García -A. Karausz
850
O. GUSTOVSKY ‐ P. ACOSTA
I. CORDOBA ‐ E. TORRES
710
Femenino A
Puntuación
Campeona
Reina Antunez – Natalia Bonet
950
Subcampeona
I. Tarres – S. Navarro
900
Semifinalistas
C. Fernandez – A. Rovira
N. Gonzales – F.Fredojevic
900
GALERÍA
Volver a calendario 2016
[:en]
TECHNIQUE CARD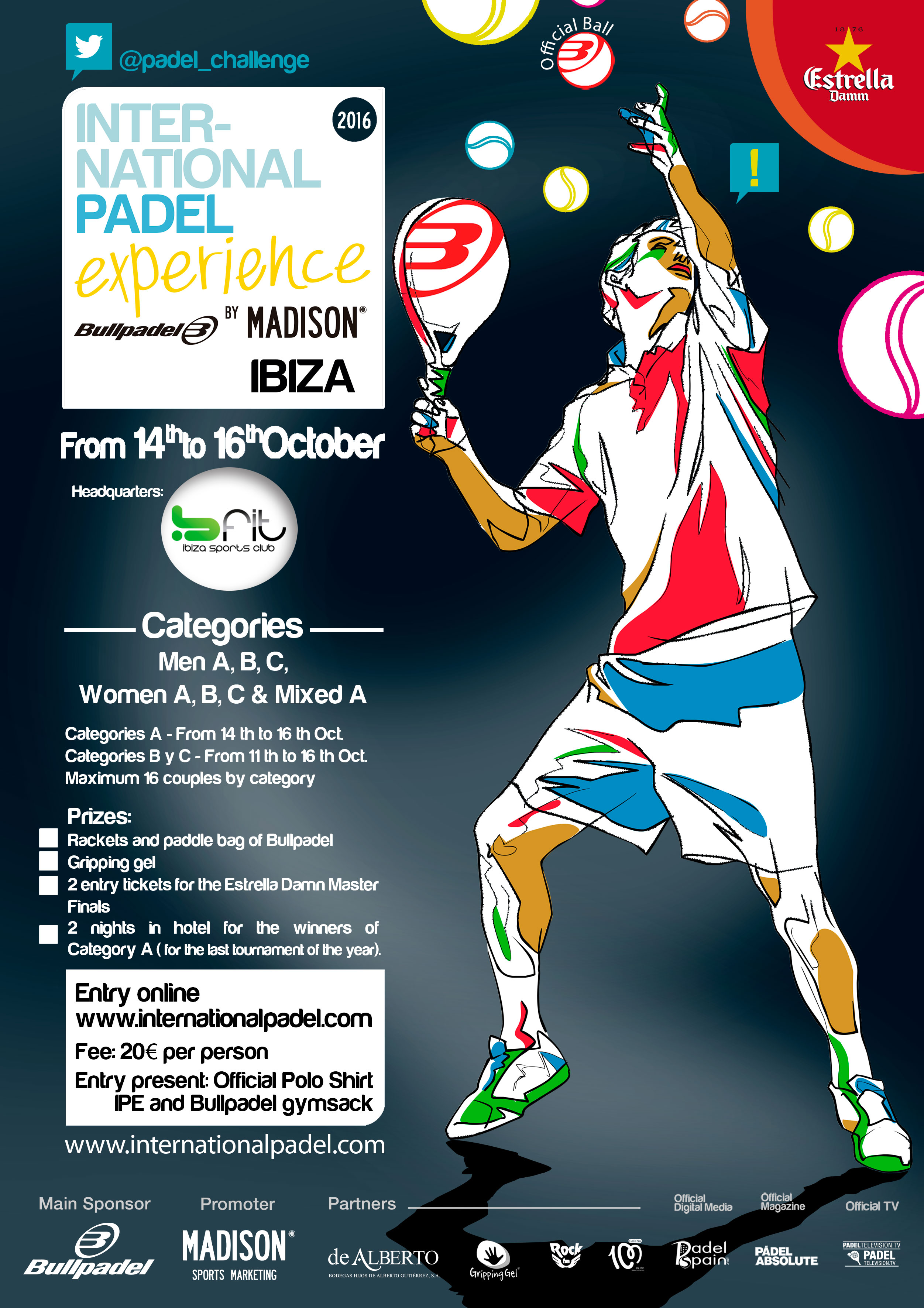 Place:BFIT Ibiza sport club
Date:From 14th to 16th October
Categories:Man, Woman and Mixed
Welcome Pack: View

Official IPE2016 polo shirt
Gymsack bullpadel

Price:20€/person
REGISTRATION CLOSED
SPONSORS
THE CLUB
DESCRIPTION
iBfit Ibiza Sports Club has 4 paddle courts with artificial grass and 1 single track only on the island of Ibiza. All tracks are panoramic and modern design.
The paddle section is directed by Oscar Not, Vice World Champion and 3 consecutive years No. 1 Ranking in Spanish . The sport that has more and more practitioners, is suitable for all ages and all levels.
Calle Metge Domingo Nicolau Balançat, Sector 4,07800 Ibiza
971 80 68 85
AWARDS
Category Man A
Category Women A
Category Man B
Category Women B
Category C
Champion
Racket Black Metal 16
Racket Night 16
Racket K2 Evo
Racket Kata Light 15
Racket BP10 EVO16
205,00€
170,00€
140,00€
120,00€
120,00€
Subchampion
Paletero BBP
Bag BMP
Bag BMP
54,00€
44,00€
44,00€
*In addition to male and female champions category A will also receive the following prizes:
Gift of Gripping Gel
2 tickets for the Estrella Damm Master Finals
2 nights hotel for the last tournament of the year
CLASSIFICATION
Male A
Puntuaction
Male B
Puntuaction
Champion
Marcos Tur – Carlos Tur
950
A. PEREZ ‐ J. MONTY
790
Runner-up
M. Sánchez – R. Ramírez
900
F. VALVERDE ‐ A. HERNAN
740
Semifinalists
J. A. Quintero – K. Valenzuela
U. García -A. Karausz
850
O. GUSTOVSKY ‐ P. ACOSTA
I. CORDOBA ‐ E. TORRES
710
Female A
Puntuaction
Champions
Reina Antunez – Natalia Bonet
950
Runner-up
I. Tarres – S. Navarro
900
Semifinalists
C. Fernandez – A. Rovira
N. Gonzales – F.Fredojevic
900
GALLERY
Back to calendar 2016
[:]