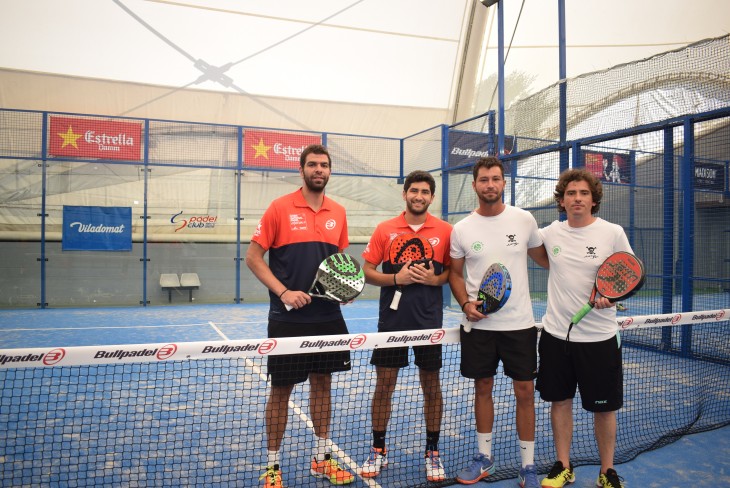 [:es]El International Padel Experience by Madiosn ya tiene a los campeones de las diferentes categorías de Andorra Open.
En el lado masculino, Gustavo Morales y Gerard Florido derrotaron a la pareja Jordi Martínez-Carles Montferrer en una competida final por 7-6, 2-6 y 6-2 por el título de la categoría A. Por su parte, Raúl Villet y Albert López vencieron por 6-4, 1-6 y 7-6 a Jose López  y Joan Petrdiguespara levantar el trofeo de la competición B.
En la competición femenina, la pareja vencedora fue la formada por Natalia Font y Lidia López, que hicieron un gran torneo mostrando mucha intensidad y efectividad en su juego y doblegaron a Pili Rodríguez y Fabiana Monsegur.
La competición mixta tuvo una final muy interesante con un claro ganador. La pareja formada por Juanjo Ferri y Adriana Olive tuvo controlado el partido desde el primer momento y no cedió ninguno de sus sets, 6-3 y 7-6.
Un gran fin de semana que concluye el International Padel Experience para tomar rumbo ahora a Valladolid donde se espera una gran participación.
Puedes ver todos los enfrentamientos en el siguiente link
[:en]The International Padel Experience by Madiosn already has the champions of the different categories of Andorra Open.
In the men's side, Gustavo Morales and Gerard Florido defeated the pair Jordi Martínez-Carles Montferrer in a final competition 7-6, 2-6 and 6-2 for the category A title. Raúl Villet and Albert López beat Jose López and Joan Petrdigues 6-4, 1-6 and 7-6 to lift the B-trophy.
In the women's competition, the winning pair were formed by Natalia Font and Lidia López, who made a great tournament showing a lot of intensity and effectiveness in their game and defeated Pili Rodríguez and Fabiana Monsegur.
The mixed competition had a very interesting final with a clear winner. The pair formed by Juanjo Ferri and Adriana Olive controlled the match from the outset and did not give up any of their sets, 6-3 and 7-6.
A great weekend that concludes the International Padel Experience to take direction now to Valladolid where a great participation is expected.
You can see all the clashes in the following link[:]