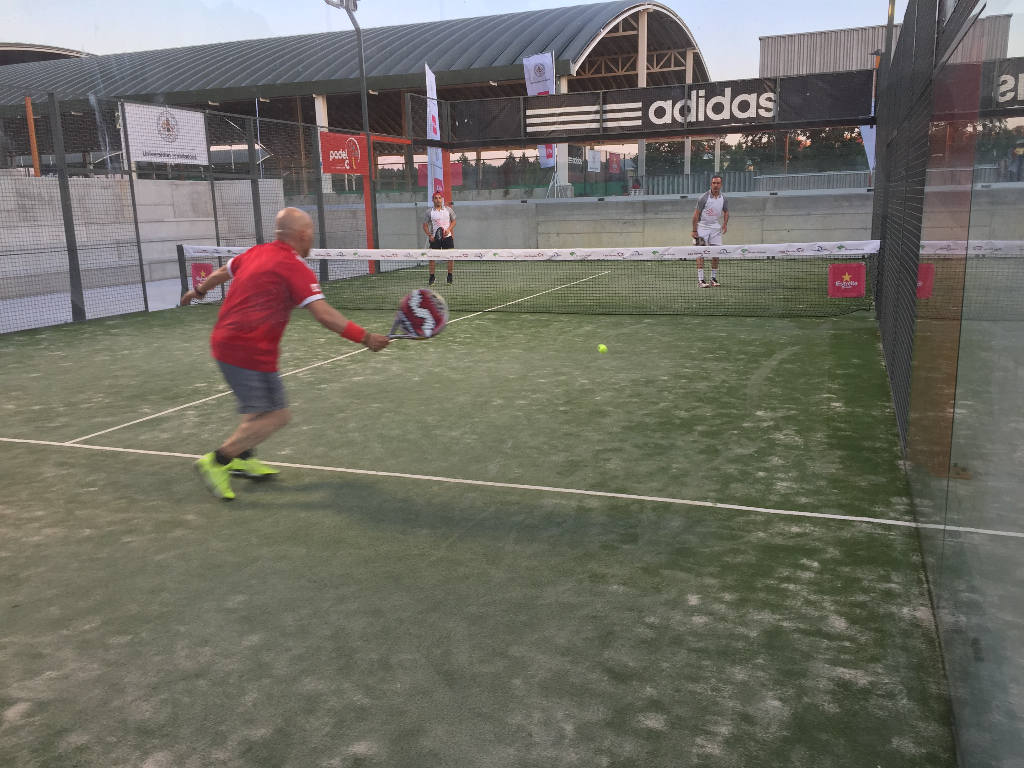 La segunda prueba del International Padel Experience adidas by Madison patrocinado por Estrella Damm ya está en marcha en Valladolid. Intensas jornadas de buen pádel te esperan en unas instalaciones que no dejan indiferente a nadie.
El Club Raqueta Valladolid acogió a los participantes del adidas Valladolid Open Trofeo Universidad de Valladolid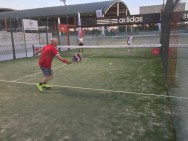 en una jornada inaugural de mucha calidad.
El primer día de competición transcurrió bajo un ambiente de pádel inmejorable.
Las parejas inscritas al torneo llegaban con la suficiente antelación para recibir todos los regalos, conocer las instalaciones y concentrarse cara al partido que les tocaba disputar.
Un total de 19 encuentros se disputaron en la jornada del martes.  El ritmo de los partidos fue intenso. Las parejas que tomaban ventaja en el marcador no bajaban en ningún momento la concentración y desplegaban su mejor pádel, prueba de esto es que tan solo dos partidos se fueron a 3 sets, el que disputaron María del Mar Sáez-Nuria Arrabal ganaron a Sara Esteban-Chelo Picado con el resultado de (2-6, 6-2 y 11-8) y en la categoría masculina, el encuentro entre Nacho Barrasa- Ricardo Nieto y Miguel González-Francisco Tomillo que finalizó con el resultado de (4-6, 6-3 y 11-7)
Hoy miércoles es el turno de la primera categoría masculina. Hay prevista una gran afluencia de público para ver los mejores golpes en el Club Raqueta de Valladolid.
En la categoría femenina, en el grupo B, se disputa hoy un encuentro atractivo e igualado. Se enfrentan Marta Velilla-Nieves Jiménez contra Sara Esteban-Chelo Picado. Ambas parejas resolvieron sus partidos del martes con un doble 6-0. Las favoritas del grupo se juegan la primera plaza y por consiguiente la clasificación.
Motivos hay de sobra para no perderse detalle de la competición, desde las 18:00 hasta que terminen todos los encuentros. 
The second round of the International Padel Experience Madison adidas sponsored by Estrella Damm is already underway in Valladolid. Intense days of good paddle await you in a facility that does not leave anyone indifferent.
The Racquet Club Valladolid welcomed the participants of the adidas Open Trophy Valladolid University of Valladolid in a opening day of high quality.
The first day of competition took place under an environment of superb paddle.
Couples registered for the tournament came in good time for all the gifts, see the facilities and focus ahead of the game playing them play.
A total of 19 games were played in the day on Tuesday. The pace was intense matches. Couples who took the lead did not drop at any time concentration and displayed their best paddle, proof of this is that only two parties went to 3 sets, who played Maria del Sáez-Nuria Mar Arrabal beat Sara Esteban -Chelo Picado with the result (2-6, 6-2, 11-8) and in the male category, the meeting between Nacho Barrasa- Ricardo Miguel Gonzalez Nieto and Francisco Thyme ended with the result (4-6 6-3 11-7)
Wednesday is the turn of the first male category. There is provided a large number of people to see the best shots in the Racquet Club Valladolid.
In the female category, in group B, it is today an attractive dispute and tight encounter. Velilla-Nieves Marta Jimenez face off against Sara Esteban Picado-Chelo. Both couples resolved their matches Tuesday with a double 6-0. Favourite group played the first place and therefore classification.
There are plenty of reasons not to miss details of the competition, from 18:00 until end all games.