TECHNIQUE CARD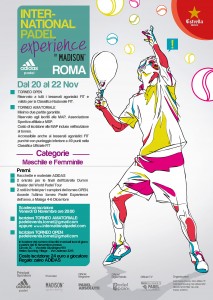 Place: Helios Village
Date:Form 20 to 22 November
Categories:Male y Female
Price:24 €/person
Cuadros de juego:
SPONSORS
THE CLUB
DESCRIPTION
The structure includes 7 fields in Terra Rossa, 1 golf at the Golf-Green set and one rubber cover over a Locker Zone dedicated only to activities. The Tennis Helios is run by four officers: Sergio Di Francesco: National Teacher and coach of the International Tennis League. Fabio Berardi: Instructor F.I.T second level. Leonardo Pacchiarotti: National Instructor MSPItalia. Alessandro Orsi: Instructor UISP Tennis League. Tennis School, started five years ago, participates in all regional competitions Sub-12-14-16-18, Championship Series D / C.Es can take tennis lessons 2 times or 3 times a semana.The school is affiliated to the ITF and is part of the PIA Project Lazio 2.
 HELIOS VILLAGE S.R.L. Via Ostiense Km 22,00 - Ostia Antica 00119 Roma Tel./Fax 06 5650595 - 06 56352772
AWARDS
MALE
FEMALE
Champion
Category A
Category B
Category C
A Category
B Category
Pala Tour EVO
Pala Response
Pala Training
Pala Tour EVO
Pala Response
185,00€
135,00€
100,00€
185,00€
135,00€
      
Subchampion
Paletero PRO
Paletero Fast
Paletero Tour
Paletero PRO
Messenger
65,00€
50,00€
55,00€
65,00€
46,00€
*Players with option to award it is necessary to remain in the delivery to collect your gift. Otherwise they will lose this right although classified.
2 tickets for the champions of Category A (Male and Female) for Masters Final World Paddle Tour to be held from 16 to 20 December in Madrid. The tickets are for Saturday and Sunday (Semifinals and Final).
Hotel for champions of Category A (Male and Female) for the Open International Padel Malaga Experience that will take place from 4 to 6 December at Reserve Higuerón (2 nights).
CLASSIFICATION
MALE
FEMALE
 Category A
Category B
Category C
 Category A
 Category B
Player
Points
Player
Points
Player
Points
Player
Points
Player
Points
Champions couple
Subchampions couple
GALLERY