New dates for postponed tournaments!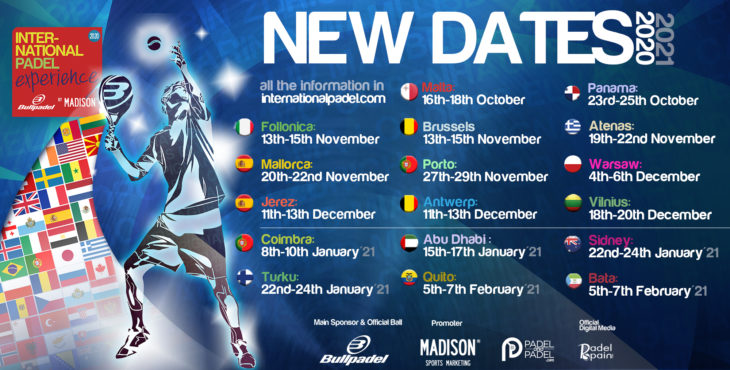 The International Padel Experience by Madison continues working to relocate all the tournaments that could not be played in the months of March, April, May, June and July due to the COVID-19 pandemic. In this way, the clubs and the circuit have decided to transfer the dates to the next months of the year.
The rest of appointments keep the planned date from the first moment.
OCTOBER
Malta 16-18 October
Panama 23-25 October
NOVEMBER
Follonica 13-15 November
Brussels 13-15 November
Mallorca (PALMA PADEL) 20-22 November
Athens 19-22 November
Porto 27-29 November
DECEMBER
Warsaw 4-6 December
Jerez 11-13 December
Antwerp 11-13 December
Vilnius 18-20 December
JANUARY
Coimbra 8-10 January
Abu Dhabi 15-17 January
Australia January 22-24
Turku 22-24 January
FEBRUARY
Quito 5-7 February
Bata 5-7 February