TECHNIQUE CARD
Date:From 20 to 22 November
Categories:Male y Female
Price:20 €/person
Gift:Adidas backpack
Cuadros de juego:
SPONSORS
THE CLUB
The Club de Padel La Moraleja is located on a plot of over 14,000 square meters, in Arroyo de la Vega(Alcobendas) behind the CC Diversia.
OUTDOOR FACILITIES with 23 paddle courts (11 of wall 8 are glass covered and 12). 12 tennis courses for indoor practices. 1 tennis Beach Tennis. Children's play area.
A building of over2,100 m2with: A complete Spa. Some cabins Physiotherapy. A well equipped fitness room. Modular multipurpose room, with up to 5 different configurations and equipped for any type of professional or social event. Café-restaurant with a large bar and covered terrace. Sports equipment store with a wide range of brands. CCTV system with information, publicity and entertainment circuit.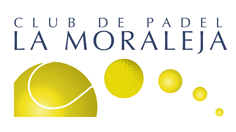 CLUB DE PADEL LA MORALEJA Teléfono: 91 484 18 30 informacion@clubpadelmoraleja.es Avenida Bruselas, 29 Alcobendas (28108) Madrid
AWARDS
MALE
FEMALE
Champion
Category A
Category B
Category C
A Category
B Category
Pala Tour EVO
Pala Response
Pala Training
Pala Tour EVO
Pala Response
185,00€
135,00€
100,00€
185,00€
135,00€
      
Subchampion
Paletero PRO
Paletero Fast
Paletero Tour
Paletero PRO
Messenger
65,00€
50,00€
55,00€
65,00€
46,00€
*Players with option to award it is necessary to remain in the delivery to collect your gift. Otherwise they will lose this right although classified.
 2 tickets for the champions of Category A (Male and Female) for Masters Final World Paddle Tour to be held from 16 to 20 December in Madrid. The tickets are for games Saturday and Sunday (finals and Final).
Hotel for champions of Category A (Male and Female) for the Open International Padel Malaga Experience to be held from 4 to 6 December at Reserva del Higueron (2 nights).
CLASSIFICATION
MALE
FEMALE
Category A
Category B
Category A
Jugador
Puntos
Jugador
Puntos
Jugador
Puntos
Champions couple
 Alejandro Gil
 950
 Javier Moreno
 790
 Laura Fraile
 950
 Victor M. Mena
 950
 Marcos del Pilar
 790
 Rosalía Machín
 950
Subchampions couple
 David García
 900
 Sergio Gómez
 740
 Carolina Morales
 900
 Ignacio Peinado
 900
 Adrián Palomero
 740
 Marina García
 900
GALLERY