Join to the world' capital of padel in the next tournament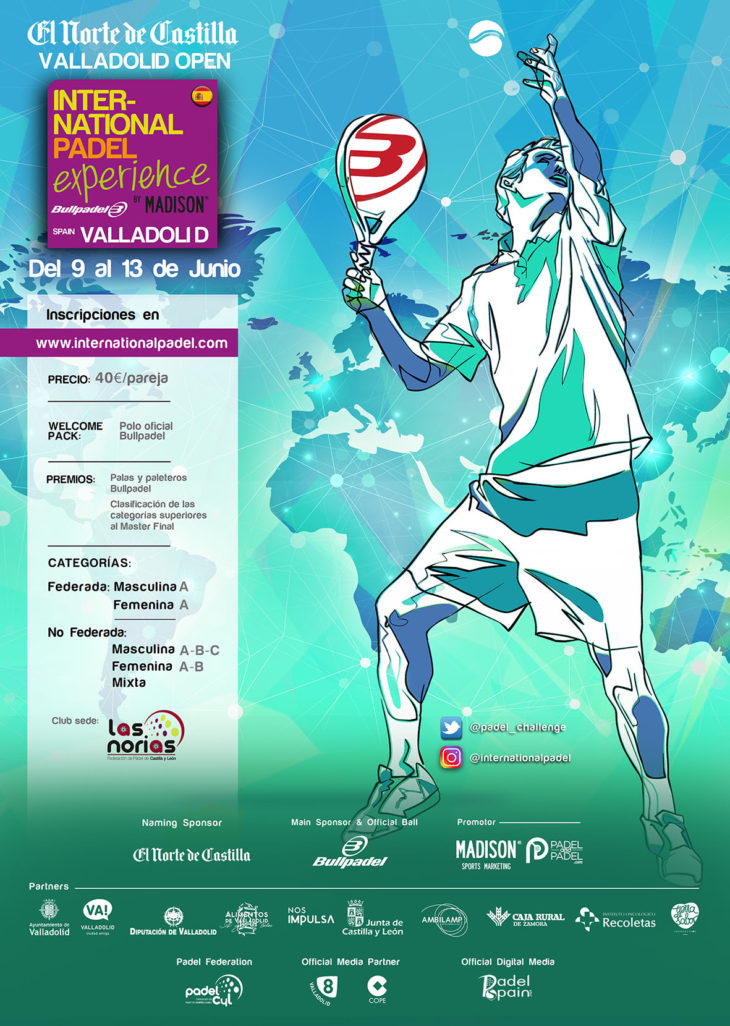 The tenth season of the International Padel Experience by Madison is just beginning. The second stop will move the tournament to Valladolid, a city that continues to be a point of reference in the world of padel and is once again home to the circuit.
El Norte de Castilla Valladolid Open has the registrations open for the one and only international padel amateur circuit that will be held from June 9th to 13th. The world' capital of padel will receive the participants and spectators at Las Norias club to enjoy a unique and unforgettable experience.
This tournament is held as a complement and activity prior to the arrival of the World Padel Tour in the capital of Castilla y León with two of the A categories, male and female, federated. The Valladolid Master will be held in the main square of the city from June 19th to 27th.
The rest of the amateur participants will also be able to enjoy the tournament at the sports complex 'Las Norias', which belongs to the Valladolid Municipal Sports Foundation and is managed by the Castilian Padel Federation. The club has 2 indoor and 4 outdoor courts where the tournament will be played under a protocol of appropriate sanitary measures.
The top-level federated padel couples and the different levels of amateur couples can now sign up for the tournament with a registration price of 40 € per pair. They also will receive a welcome pack on the registration, which consists of the exclusive and official polo of the tournament, thanks to our main sponsor Bullpadel. Additionally, the champions of the different categories will receive as a prize sports equipment of the brand.
El Norte de Castilla Valladolid Open will challenge the federated players of category A, male and female, and the amateur players of the male A, B and C, female A and B, and mixed categories. The champions of the highest amateur categories, both female and male, will receive a direct invitation to play the Master Final, a tournament that is the meeting point for amateur players worldwide.
Therefore, the city will host the second venue that will continue with a spectacular tenth season that, in addition to the competition itself, will be an incentive for Valladolid tourism due to the different nationalities that will be present on those dates.
If you still want to enjoy this experience, sign up at the following link. Travel, play and enjoy padel lover!