TECHNIQUE CARD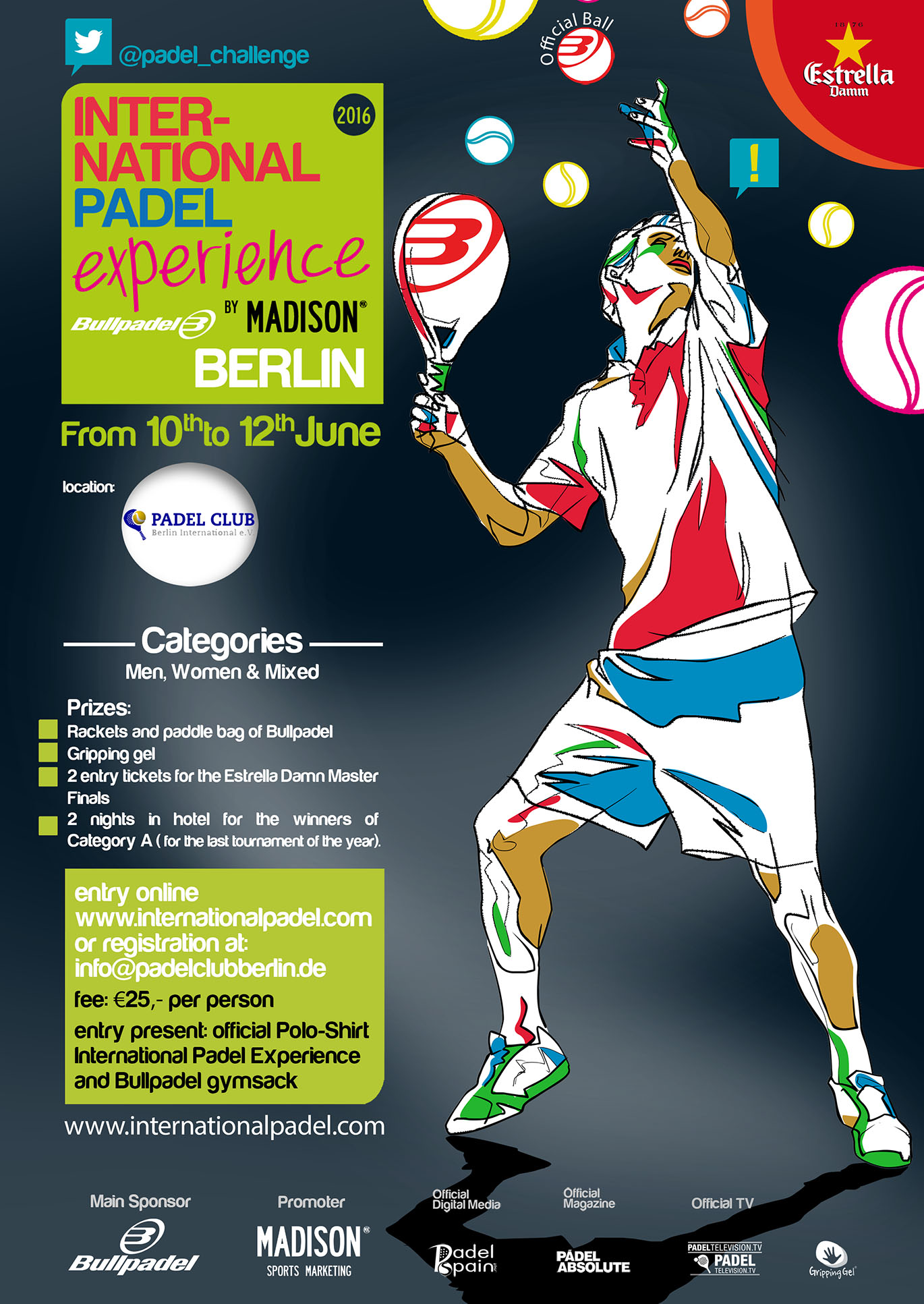 Date:From 10th to 12th June
Categories:Man, Female y Mixed
Welcome Pack: View

Official IPE2016 polo shirt
Gymsack bullpadel

Price:25€/person
Register online or registration at: info@padelclubberlin.de
REGISTRATION CLOSED
SPONSORS
THE CLUB
DESCRIPTION
Padel Club Berlin International e. V
opened as a second Paddle center of the German capital in September 2013. Has two additional tracks to the tennis courts and paddle Johannistal CT. It provides detailed game instruction, training, clubs and balls. His promoter, Tim Kölling, wants to inspire Berliners to play paddle. Like all tournaments by International Paddle Experience by Madison, registration is open and open to all players and players who wish, whatever their level, since the circuit is amateur. Competition in this case begins on Friday June 12th and ends on Sunday  14th. The organization, as in the rest of the appointments, schedules adjusted for those players who come to the tournament from other countries to compete without problems.
LOCATION
This Berlin club is in a small recreational oasis in Berlin Sterndamm Locust Valley, not far from the technological district of Adlershof. This area is half an hour away by public transportation from the historic city center, which is worth visiting.
The address of the club is Sterndamm 241, 12487 Berlin.
AWARDS
Category Man A
Category Women A
Category Man B
Category Women B
Category C
Champion
Racket Black Metal 16
Racket Iris 15
Racket K2 15
Racket Kata Light 15
Racket K2 15
205,00€
170,00€
140,00€
120,00€
140,00€
Subchampion
Paletero BBP
Bag BMP
Bag BMP
54,00€
44,00€
44,00€
*In addition to male and female champions category A will also receive the following prizes:
Gift of Gripping Gel
2 tickets for the Estrella Damm Master Finals
2 nights hotel for the last tournament of the year
CLASSIFICATION
MALE A
PUNCTUATION
Champion
Ahrens - Goerke
950
Runner-up
Ferrero-Barragana
900
Semifinalists
Ravelo y Hevroni
González-Meléndez
850
GALLERY
Back to calendar 2016