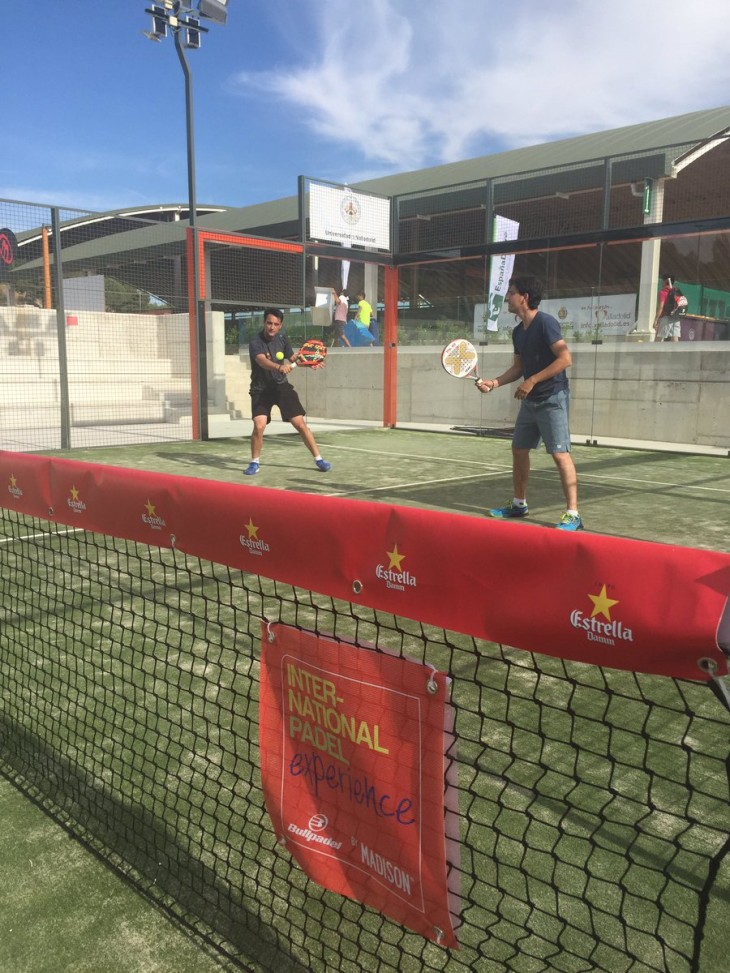 [:es]La quinta prueba del International Padel Experience by Madison, patrocinado por Estrella Damm ha vivido una jornada llena de espectáculo y grandes partidos, en un Club Raqueta Valladolid en el que los jugadores y aficionados que han acudido a disfrutar del único circuito internacional de pádel amateur.
Sin interrupción, las pistas del Club Raqueta han vivido en la jornada de hoy los primeros partidos de las categorías A, B y C masculinas y la femenina y de nuevo ha vuelto a quedar latente el gran nivel de juego que hay en esta ciudad, al igual que la expectación que hay por este deporte.
En categoría femenina, Laura Abdón y Mari Paz Pérez se han impuesto a Noelia Lobo y Cristina Martín por 6-2 y 6-4 en igualado encuentro, mientras que Almudena Pérez y María Jesús Morales han ganado a Susana García y Ángela Ribada por 6-1, 4-6 y 11-8 en uno de los partidos más emocionantes del día, que se ha resuelto finalmente en el tercer set. El duelo entre María Isabel Pérez-Rocio Boronat y Pilar Pino-Andrea González ha terminado con un igualado 6-4 y 7-5, decidiéndose en el tie break.
Mucha emoción hemos tenido también con las categorías masculinas. El partido del grupo A entre Axier Líbano-Saúl Samaniego y Enrique Garijo-Luis Delgado se ha suspendido en la tercera manga por lesión de Saúl, que aunque no corría gravedad, le ha impedido terminar el encuentro. Enrique y Luis se verán las caras con Fernando Pinedo y Francisco Illera, que derrotaron a Federico Arias y Fran Ribot por 6-4 y 6-3.
De igual forma la categoría B masculina nos ha dejado partidos llenos de detalles de gran calidad, puntos largos y luchas incesantes. Martín-Villa, Pozo-Acebes y Arranz-Martínez han ganado sus partidos con solvencia y avanzan a siguiente ronda. Y en categoría C las parejas más fuertes del día han sido Jose María y Vicente González y Álvaro de la Fuente con Fernando Betri. Ambas han derrochado mucha energía y buen nivel de juego y han pasado a la siguiente ronda demostrando ser dos parejas candidatas al título.
Mañana continua el espectáculo en las pistas del Club Raqueta Valladolid, en las que seguro continua el derroche de pasión por el pádel.
Puedes consultar todos los resultados y partidos de mañana pinchando en el siguiente enlace:
http://internationalpadel.com/valladolid2016/[:en]The fifth round of the International Padel Experience by Madison, sponsored by Estrella Damm has lived a day full of entertainment and great parties in a Club Racquet Valladolid in which players and fans who have come to enjoy the unique international circuit of amateur paddle.
Without interruption, the tracks of Club Racquet have lived in the day today the first games in categories A, B and masculine C and feminine and again has again become dormant the high level of play there is in this city, like the expectation there for the sport.
In the women, Laura Abdon and Mari Paz Pérez have been imposed to Lobo and Cristina Noelia Martin 6-2, 6-4 in tight encounter, while Almudena Pérez and Maria Jesus Morales have won Susana Garcia and Angela Ribada by 6- 1, 4-6, 11-8 in one of the most exciting matches of the day, which was finally resolved in the third set. The duel between Maria Isabel Perez-Rocio Pilar Pino-Boronat and Andrea Gonzalez finished with a 6-4 7-5 equalized, being decided in the tie break.
We also had a lot of excitement with male categories. The Group A match between Axier Lebanon-Saul Samaniego and Enrique Garijo-Luis Delgado has been suspended in the third leg injury Saul, although not running gravity prevented him finish the game. Luis Enrique and Fernando Pinedo faces and Francisco Illera, who beat Federico Arias and Fran 6-4 6-3 Ribot will be.
Similarly category B male parties left us full of details of high quality, long points and incessant struggles. Martin-Villa, Well-Arranz-Martinez Acebes and have won their games with solvency and advance to next round. In category C the strongest couples have been day and Vicente Jose Maria Gonzalez and Alvaro de la Fuente with Fernando Betri. Both have wasted a lot of energy and good level of play and passed to the next round proving to be two couples applying for the title.
Tomorrow continues the show tracks Racquet Club Valladolid, which continued safe wasting passion for paddle tennis.
You can see all the results and matches tomorrow clicking on the following link: