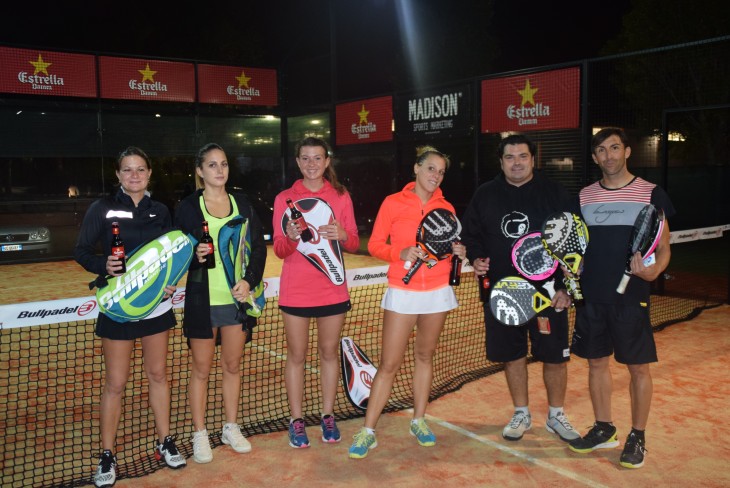 [:es]El Roma Open ya tiene campeones. Emanuele Fanti  junto a Alessandro Tinti, en la competición masculina federada, Valentina Tomassi y Francesca Zacchini, en la categoría femenina federada, Jerónimo Cañas con Eduardo Espona en la categoría A masculina y Giordano Orecchio con Maria Maderna en el cuadro mixto levantaron el título en el HeliosVillage de Roma, que ha vivido en su máxima expresión lo que representa albergar un torneo del International Padel Experience by Madison. Bajo un ambiente excelente durante todo el fin de semana, la duodécima cita del circuito, patrocinado por Estrella Damm, disfrutó de un desenlace apasionante, en el que los vencedores impusieron su ley sin contemplaciones.
Fanti y Tinti se encontraron en la final con Luca Mezzetti y Simone Promutico, a los que pasaportaron con un 6-4, 4-6 y 7-6 y que les otorga las dos entradas para el Máster final de World Padel Tour, las dos noches de hotel para disputar el último torneo del curso en Reserva del Higuerón Resort y las palas de gama alta de Bullpadel. Los campeones de la categoría amparada por la Federación Italiana de Pádel se coronaron como justos triunfadores de un Roma Open muy interesante donde ha quedado latente el gran momento de pádel que vive la ciudad romana.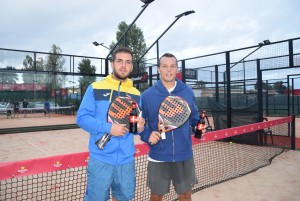 En la competición femenina, las campeonas tampoco tuvieron demasiados agobios para exhibir su potencial ante sus adversarias. Valentina Tomassi y Francesca Zacchini abrieron la final con un 6-4 incontestabe ante Flavia Petruccioli y Francesca Coricelli y cerraron su victoria con un  apretado 7-5 en el último set que les concede el honor de contar en su expediente con el triunfo absoluto en el Roma Open femenino.
En la categoría masculina A, Eduardo Espona y Jerónimo Cañas consiguieron su segunda victoria en el IPE by Madison 2016. Tras coronarse en la cita de Lisboa, los jugadores procedentes de Granada volvieron a desplegar su mejor juego en las canchas italianas. En la final por el título, Cañas y Espona vencieron con la seguridad y compenetración que les caracteriza ante la dupla local compuesta por Luca Grieco y Gianluca Giancinti con un resultado de 6-2 y 6-2.
Por último, la categoría mixta brindó a todos los espectadores del Roma Open un gran espectáculo en la mañana del domingo. Giordano Orecchio y Maria Maderna fueron los mejores del cuadro, pero no lo tuvieron nad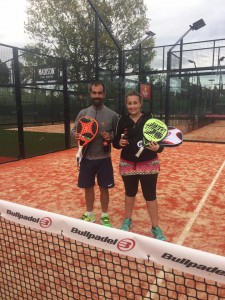 a fácil. En la final derrotaron a Simone Polacco y Martina Camorani en un partido muy intenso, igualado y emocionante en sus más de dos horas de duración que se cerró con un resultado de 6-3, 4-6 y 6-3.
Con los campeones en el primer peldaño del podio, el Roma Open bajó la persiana a un excelente fin de semana de pádel en el Club Helios Village, que de nuevo ha albergado de manera sobresaliente el International Padel Experience by Madison. Sin tiempo para el descanso, el circuito enfila ahora el camino hacia su penúltima etapa, que tendrá lugar en Malmö, del 28 al 30 de octubre.
Puedes consultar los cuadros de juego en el siguiente enlace:
http://internationalpadel.com/roma2016/[:en]The Rome Open has already champions . Emanuele Fanti with Alessandro Tinti in the federated men's competition, Valentina Tomassi and Francesca Zacchini in the federated women's category, Jerome Cañas and Eduardo Espona in category A male and Giordano Orecchio with Maria Maderna in the mixed picture lifted the title in the Helios Village of Rome, who has lived at its best representing host a tournament Padel International Experience by Madison. Under an excellent atmosphere throughout the weekend, the twelfth appointment circuit, sponsored by Estrella Damm, enjoyed an exciting denouement, in which the victors imposed their law unceremoniously.
Fanti and Tinti found in the final with Luca and Simone Mezzetti Promutico, those who win with a 6-4, 4-6, 7-6 and gives them two tickets to the final Master of World Padel Tour, the two hotel nights to play the last tournament of the year in Higueron Resort and shovels high-end Bullpadel. The champions of the category covered by the Italian Federation of Padel were crowned as winners just a very interesting Open Rome where it has been dormant the great moment of pádel the Roman city living.
In the women's competition, the champions were not too many burdens to showcase their potential at their opponents. Tomassi Valentina and Francesca Zacchini opened the final with a 6-4 to Flavia and Francesca Petruccioli Coricelli and closed with a tight victory 7-5 in the final set that gives them the honor of having on file with the absolute triumph in the Roma women's Open.
In the men's category A, Eduardo Espona and Jerónimo Cañas got their second win in 2016. After IPE Madison crowned by the appointment of Lisbon, players from Granada again deploy his best game in the Italian courts. In the final for the title, they beat Cañas and Espona safety and rapport that characterizes them with the local duo composed by Luca Grieco and Gianluca Giancinti with a score of 6-2, 6-2.
Finally, the mixed category gave all spectators a great show Rome Open on Sunday morning. Maderna Orecchio Giordano and Maria were the best picture, but did not have it easy. In the final they defeated Simone and Martina Polacco Camorani in a very intense, even and exciting in its more than two-hour match that ended with a result of 6-3, 4-6 and 6-3.
With the champions on the top step of the podium, the Rome Open down the blind to an excellent weekend paddle at Club Helios Village, which again has hosted outstandingly by the International Padel Experience Madison. No time for rest, the circuit now lines up the way to the penultimate stage, which will take place in Malmo, from 28 to 30 October.
You can see the pictures of play at the following link: