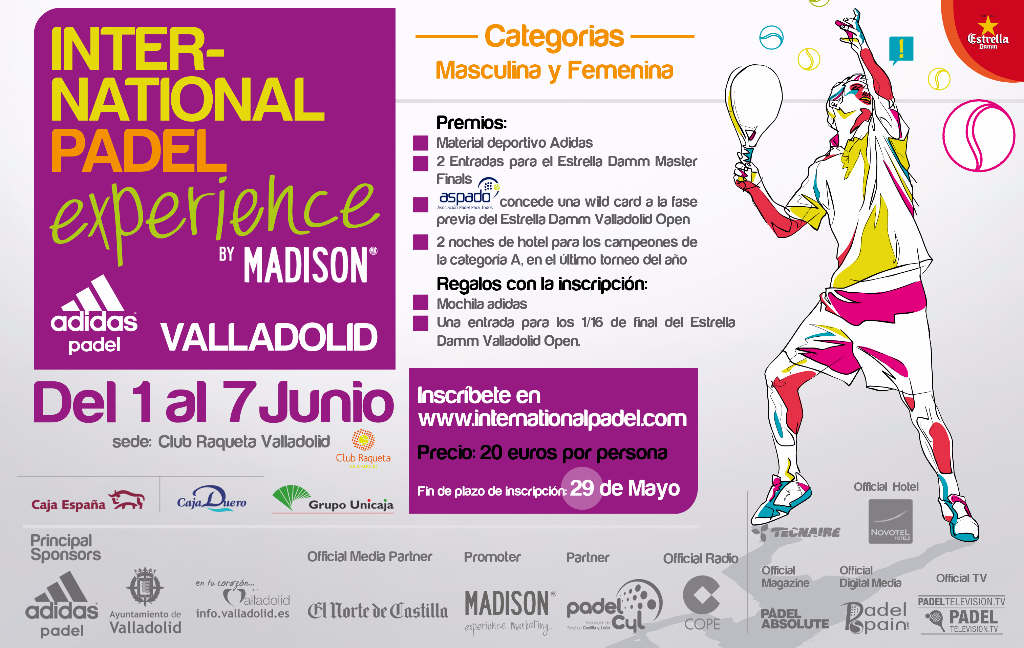 La segunda prueba del International Pádel Experience adidas by Madison patrocinado por Estrella Damm amplía su plazo de inscripción hasta el viernes 29 de mayo a las 00:00.
El adidas Valladolid Open, que se celebrará del 1 al 7 de junio en el Club Raqueta Valladolid, cuenta con un alto número de participantes. Ha sido tal el interés generado en las últimas horas que todos aquellos que lo deseen dispondrán de 48 horas más para convencer a sus amigos de inscribirse en uno de los mejores torneos amateur de pádel que existen.
La back pack de adidas valorada en 35 euros que se regala con la inscripción es todo un lujo para los amantes del deporte de moda. Los inscritos también recibirán una entrada gratuita para presenciar los dieciseisavos del Estrella Damm Valladolid Open. Los ganadores del torneo, además de recibir magníficos premios y regalos, podrán disputar la fase pre previa de la prueba de World Pádel Tour gracias a ASPADO.  
Un escenario único, como es el Club Raqueta Valladolid, que cuenta con 9 pistas entre las que destaca una central-panorámica con gradas con capacidad para 150 personas, es sin duda el mejor emplazamiento posible para que todos los participantes vivan la mejor experiencia.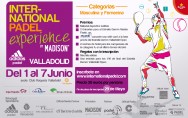 Los alicientes que ofrece este circuito están encima de la mesa. Comparte todas las ventajas que presenta el adidas Valladolid Open y recuerda la inscripción está abierta hasta el 29 de mayo a las 00:00.
The second round of the International Padel Experience Madison adidas sponsored by Estrella Damm expands its registration period until Friday May 29 at 00:00.
The adidas Valladolid Open, to be held from 1 to 7 June at the Racquet Club Valladolid, has a high number of participants. Such has been the interest generated in the last hour that all those who wish will have 48 hours to convince their friends to enroll in one of the best amateur paddle tournaments in the world.
The adidas back pack valued at 35 euros that is given with inscription is a treat for lovers of fashionable sport. Enrollees also receive a free ticket to watch the Estrella Damm Valladolid sixteenths Open. Tournament winners also receive great prizes and gifts, will contest the pre qualifiers Test Padel World Tour by reeled.
A unique setting, such as Valladolid Racquet Club, which features 9 tracks among which a central-tiered pan with capacity for 150 people, is certainly the best location for all participants to live the best experience.
Its attractions this circuit are on the table. Shares all the advantages of the adidas Valladolid Open and remember registration is open until May 29 at 00:00.