[:es]
FICHA TÉCNICA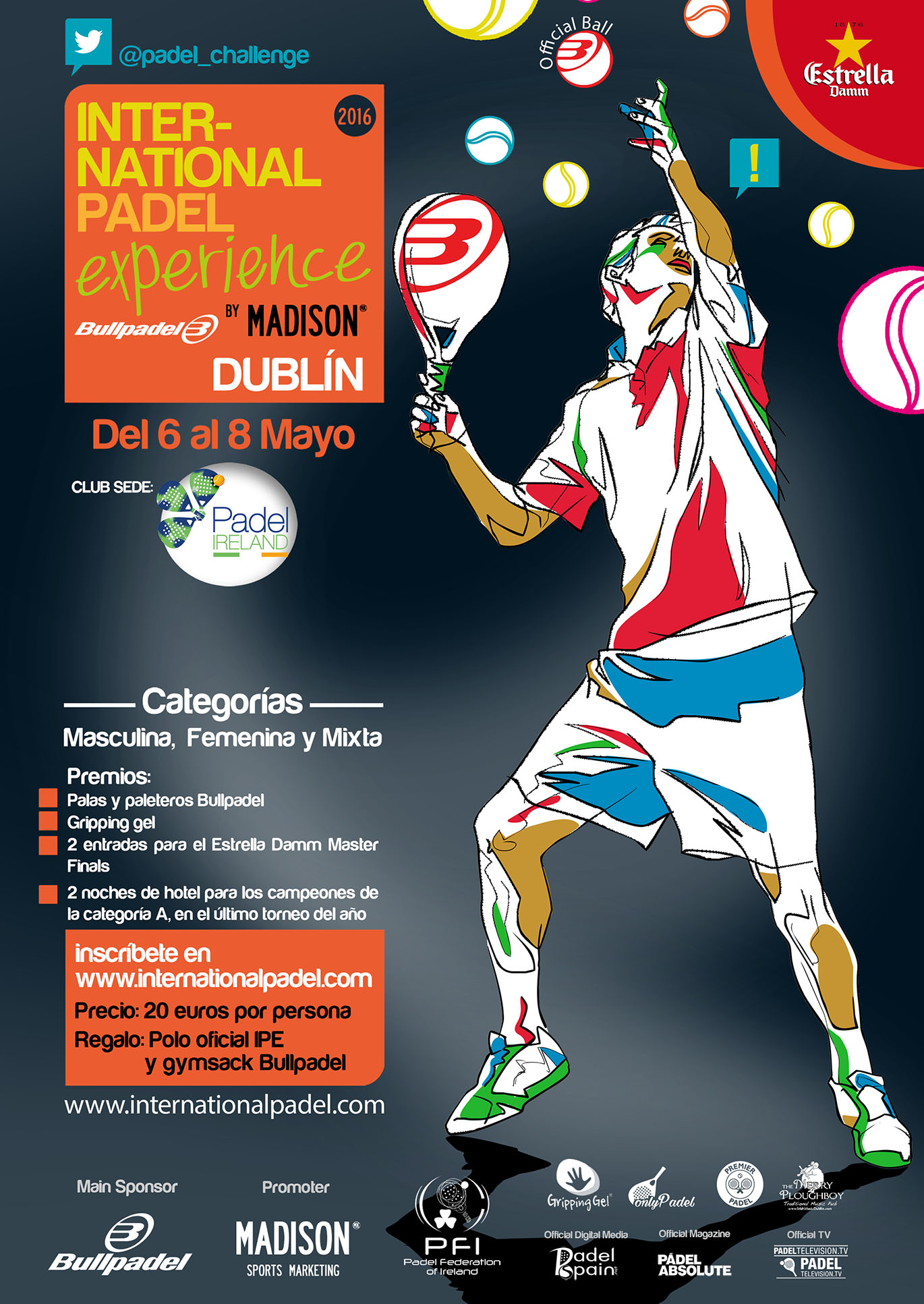 PATROCINADORES
EL CLUB
DESCRIPCIÓN
Padel Irland Rockbrook es el primer club de pádel en Irlanda que desde los últimos 3 años promovemos el pádel en el país. La primera pista en Irlanda fue inaugurada por el Ministro de Deportes Michael Ring. Ahora disponemos de dos pistas abiertas al público. El club se encuentra en el terredo de Rockbrook School Park, en las montañas de Dublín, con una de las vistas más espectaculares de Dublín y la bahía.
PREMIOS
Categoría Masculina A
Categoría Masculina B y Masculina C
Categoría Femenina A
Campeón
Pala IRIS 15
Pala K2 15
Pala Black Metal
170,00€
140,00€
205,00€
Subcampeón
Paletero BBP
Mochila BMP
Paletero BBP
54,00€
44,00€
54,00€
*Además a los campeones masculinos y femeninos de la categoría A recibirán también los siguientes premios:
Obsequio de Gripping Gel
2 entradas para el Estrella Damm Master Finals
2 noches de hotel para el último torneo del año
CLASIFICACIÓN
Masculina A
Puntuación
Masculina B
Puntuación
Campeón
Enrique -Javier
950
Jesus-Miguel A.
790
Subcampeón
Luis-Antonio
900
Jorge-Victor
740
Semifinalistas
Alvaro-David
Ronny-Javier P.
850
Carlos Vegas-Antonio L.
Leonardo-David S.
710
Femenino A
Puntuación
Campeona
Beatriz-Marta
950
Subcampeona
Paula-Laia
900
Semifinalistas
Ana B.-Nieves
Orla-Debbie
850
Ver cuadro Masculino A | Ver cuadro Masculino B | Ver Cuadro Femenino A

GALERÍA
VÍDEO RESUMEN
Volver a calendario 2016
[:en]
TECHNIQUE CARD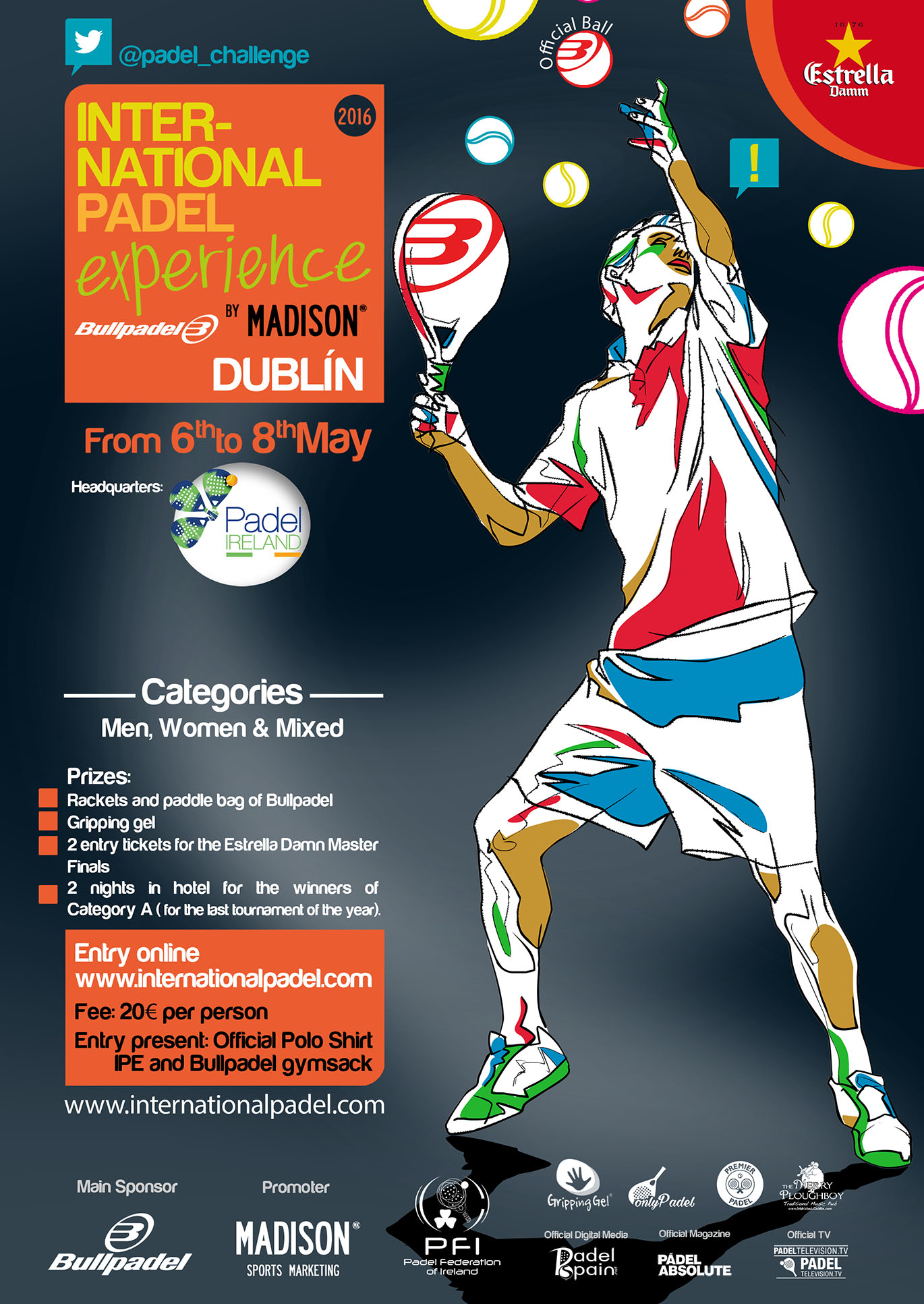 SPONSORS
THE CLUB
DESCRIPTION
The Padel Ireland Rockbrook Club is the first padel club in Ireland and we have been promoting padel over the last 3 years. The first court in Ireland was inaugurated by the Minister for Sport Michael Ring. We now have two top courts open to the public on a pay per play basis or through membership. We also have a changing room pavilion, an office and a coffee place. The Club is on the grounds of Rockbrook Park School, on the Dublin mountains, with spectacular views of Dublin and the bay.
AWARDS
Category Man A
Category Man B and Man C
Category Women A
Champion
Racket IRIS 15
Racket K2 15
Racket Black Metal
170,00€
140,00€
205,00€
Subchampion
Paletero BBP
Bag BMP
Paletero BBP
54,00€
44,00€
54,00€
*In addition to male and female champions category A will also receive the following prizes:
Gift of Gripping Gel
2 tickets for the Estrella Damm Master Finals
2 nights hotel for the last tournament of the year
CLASSIFICATION
Male A
Punctuation
Male B
Punctuation
Champion
Enrique -Javier
950
Jesus-Miguel A.
790
Runner-up
Luis-Antonio
900
Jorge-Victor
740
semifinalists
Alvaro-David
Ronny-Javier P.
850
Carlos Vegas-Antonio L.
Leonardo-David S.
710
Femenine A
Punctuation
Champion
Beatriz-Marta
950
Runner-up
Paula-Laia
900
Semifinalists
Ana B.-Nieves
Orla-Debbie
850
View Main Draw Men A | View Main Draw Men B | View Main Draw Women

GALLERY
SPOT
Back to calendar 2016
[:]