[:es]
FICHA TÉCNICA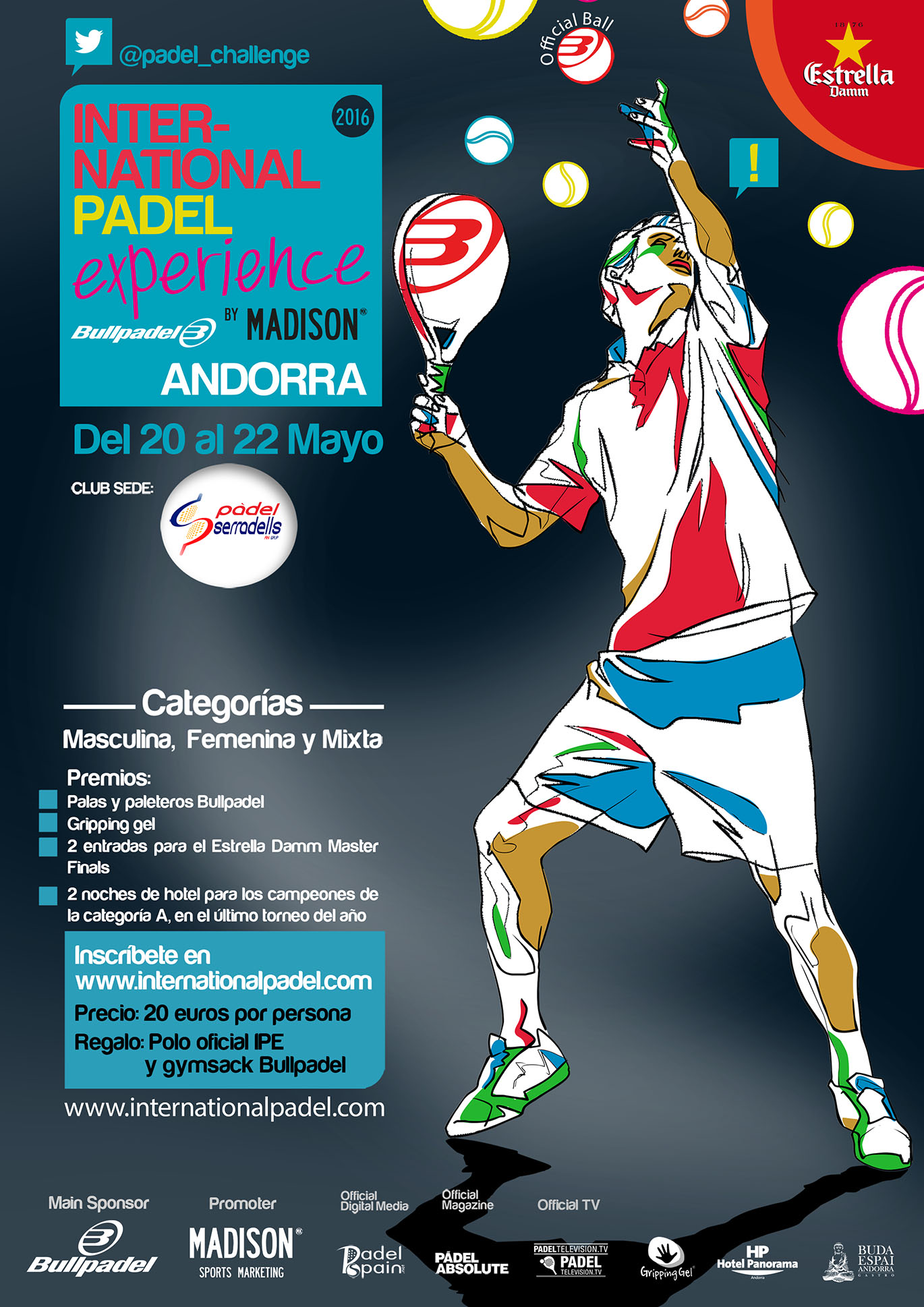 PATROCINADORES
EL CLUB
Padel Club Serradells, ubicado en la carretera de la Comella, en Andorra la Vella, tiene como objetivo promover, fomentar y estimular la práctica del pádel y del tennis acercando a todos los usuarios este maravilloso deporte.
Cuenta con las mejores instalaciones, grandes profesionales y años de experiencia.
Podrás disfrutar de sus 5 pistas indoor en su horario de apertura de lunes a viernes de 11:00 a 15:00 y 17:30h a 22:30 h. Fines de semana y festivos, de 10:30 a 13:30 y de 16:30 a 21:00 horas.
PREMIOS
Categoría A Masculina
Categoría A Femenina
Categoría B
Categoría B Femenina
Categoría C
Categoría Mixta
Campeón
Pala Wing PRO
Pala Iris 15
Pala Black Metal 16
Pala Kata Light 15
Pala K2 15
Pala Kata Light 15 y Pala K2 15
210,00€
170,00€
205,00€
120,00€
140,00€
120,00€ y 140,00€
Subcampeón
Paletero BBP
Mochila BMP
Mochila BMP
54,00€
44,00€
44,00€
*Además a los campeones masculinos y femeninos de la categoría A recibirán también los siguientes premios:
Obsequio de Gripping Gel
2 entradas para el Estrella Damm Master Finals
2 noches de hotel para el último torneo del año
CLASIFICACIÓN
Masculina A
Puntuación
Masculina B
Puntuación
Campeón
Morales-Bagilet
950
Vegas-Gelaber
790
Subcampeón
Lopez-Romero
900
Calvente-Poy
740
Semifinalistas
Bianchi-Otal
Pereira-Busquet
850
Puig-Magrinyà
Mesa-Correia
710
Femenino A
Puntuación
Campeona
Corominas-Osorio
950
Subcampeona
Gomez-Vila
900
Semifinalistas
Mira-Majoral
FReudenthal-Carnice
850
Ver Cuadro Masculino A | Ver Cuadro Femenino A | Ver Cuadro Masculino B

GALERÍA
VÍDEO RESUMEN
Volver a calendario 2016
[:en]
TECHNIQUE CARD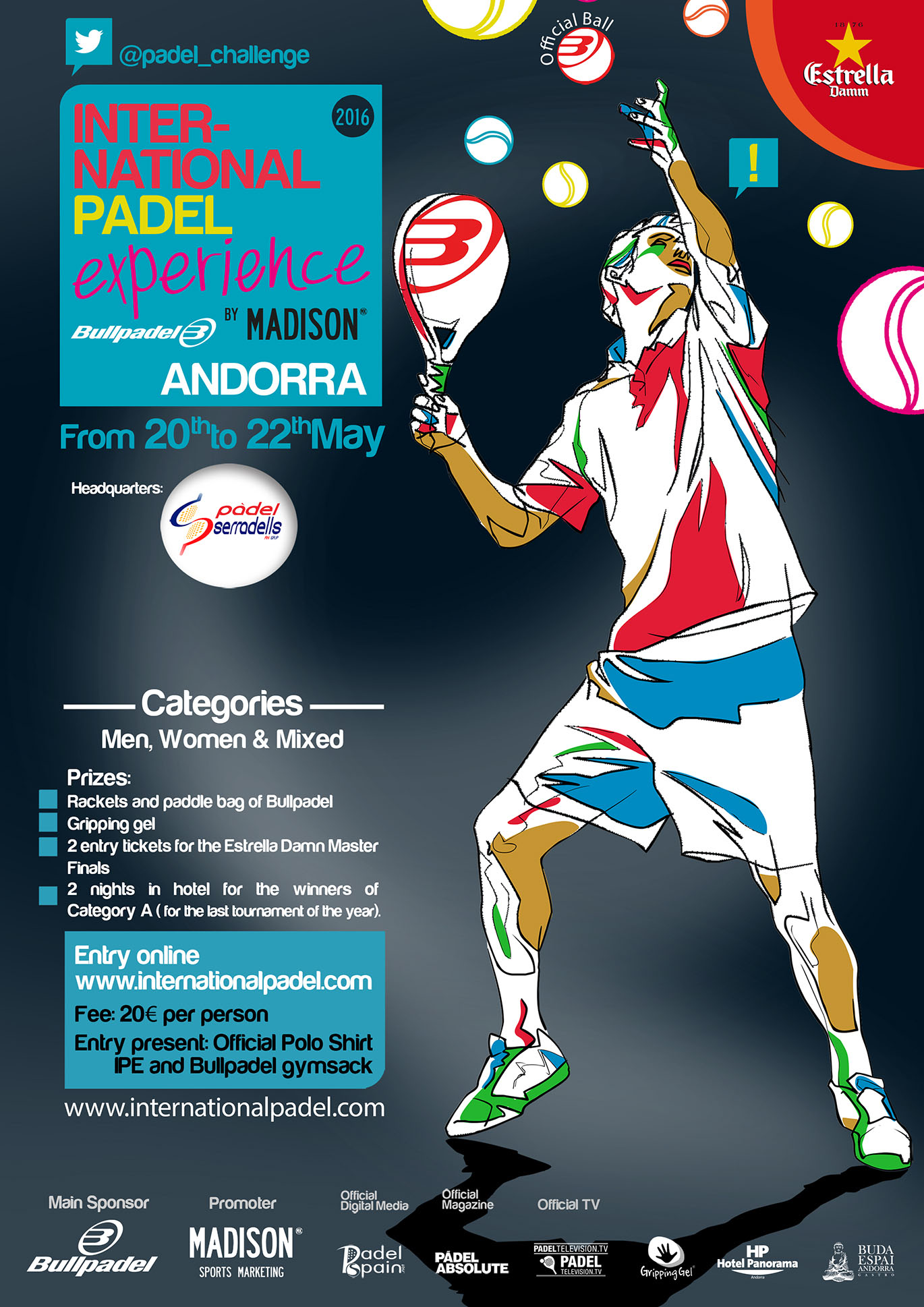 SPONSORS
THE CLUB
Serradells Paddle Club, located on the road to the Comella in Andorra la Vella, aims to promote, encourage and promote the practice of paddle tennis and all users approaching this wonderful sport.
It has the best facilities, great professionals and years of experience.
You can enjoy its 5 indoor tracks in their opening hours from Monday to Friday from 11:00 to 15:00 and 17: 30h to 22:30 h. Weekends and holidays from 10:30 to 13:30 and 16:30 to 21:00.
AWARDS
Category Man A
Category Women A
Category Man B
Category Women B
Category C
Category Mixed
Champion
Racket Wing PRO
Racket Iris 15
Racket Black Metal 16
Racket Kata Light 15
Racket K2 15
Racket Kata Light 15 y Racket K2 15
210,00€
170,00€
205,00€
120,00€
140,00€
120,00€ y 140,00€
Subchampion
Paletero BBP
Bag BMP
Bag BMP
54,00€
44,00€
44,00€
*In addition to male and female champions category A will also receive the following prizes:
Gift of Gripping Gel
2 tickets for the Estrella Damm Master Finals
2 nights hotel for the last tournament of the year
CLASSIFICATION
Male A
Punctuation
Male B
Punctuation
Champion
MORALES-BAGILET
950
VEGAS-GELABER
790
Runner-up
LOPEZ-ROMERO
900
CALVENTE-POY
740
semifinalists
BIANCHI-OTAL
PEREIRA-BUSQUET
850
PUIG-MAGRINYÀ
MESA-CORREIA
710
Femenine A
Punctuation
Champion
COROMINAS-OSORIO
950
Runner-up
GOMEZ-VILA
900
Semifinalists
MIRA-MAJORAL
FREUDENTHAL-CARNICE
850
GALLERY
SPOT
Back to calendar 2016
[:]